The JBA: The Start of Something Special?
By:Paul Scofield
Let's start this off by saying, I am in no way shape or form approving of the way LaVar Ball has handled LaMelo or LiAngelo's situations. I think he's been selfish and hard-headed about it all. However, that's none of my business and is just my opinion, which honestly doesn't and shouldn't matter to him or anyone else. So moving on, let's talk about something that I really hope takes up and is successful, the JBA or Junior Basketball Association.
This is something that LaVar has had in his head for a long time and he was finally able to launch it. If you know nothing else, we all know the Ball family. Some people don't like him at all, some people love him, but we all have an opinion on him. It's really hard to talk basketball and not have someone mention the Ball name, regardless of whose first name they put in front of that last name. Now, people have another reason to talk about the Ball family, other than Lonzo getting to team up with the best player on the planet in the NBA and fighting for his starting point guard spot with a former champion, Rajon Rondo. It's just the start of the JBA. I'm thoroughly excited about this, and I know many others are as well. I've been watching some games via Facebook Live on their official Facebook page and I've been impressed with it, being it's the first season and everything of course. There's a lot of work left to do, but the biggest thing is already set in stone, the foundation is there and the talent and interest is there.
The JBA features a total of 8 teams in different major American cities, playing within 10 venues. The 8 lucky cities are as follows: Atlanta, Chicago, Dallas, Houston, Los Angeles, New York City, Philadelphia and Seattle (not exactly what everyone means when Seattle needs a basketball team again, but they'll get whatever they're able to for now). All of the teams have the nickname "Ballers," but that's sure to change as the league grows; and trust me, it will grow. The league was officially announced in December 2017 by LaVar Ball as an alternative to the NCAA. It gives incoming young men and new type of stepping stone into the NBA. They have their chance to go straight from high school and play professionally, highlighting their talents on a different type of stage with less rules to follow and a paycheck at the end of the day. It's completely funded by the Balls' apparel company Big Baller Brand, along with investors I'm sure.
Each player will reportedly earn $3,000 per month and approximately 60% of their jersey sales. These players are also free to any endorsement deals that come their way, adding another opportunity of income that the NCAA doesn't allow. The league also pays for travel, lodging and food during road campaigns. The league hasn't disclosed exactly where all the money is coming from, other than starting BBB is funding the league itself.
On February 2, 2018, the league was said to have messaged 80 top recruits to invite then to play. A vast majority of which declined or didn't respond. It's truly hard to believe 17-19 year olds would ultimately decline the invite altogether, but taking such a huge chance is a big gamble, especially when your career could hang in the balance. No one should fault these young men, but they just might have missed a great opportunity, or they could have just saved their careers. Only time will tell when trying to answer that question.
The league appointed former NBA players Ed O'Bannon and Earl Watson, as well as Lonzo Ball, to serve on the advisory board and selection committee. In the first season, the JBA notably signed four-star recruit from Las Vegas Greg Floyd Jr and Kezo Brown, a former three-star point guard from Chicago. Former five-star recruit, LaMelo Ball is also playing within the league, ultimately being labeled as the "face of the league."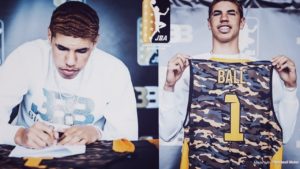 The JBA is made up of 8 teams, 10-man rosters. The league features players from 17-19 years old who have either graduated high school or in the process of, or received, their GED. You'll have your normal season, playoffs and Finals, also adding in an All-Star game as well. The teams will play 8 games each in the first season. The league's season champions will be given a luxury car as a prize. Following the season's conclusion in August, the top players from the league will compete against professional teams from other countries in the fall and winter of 2018. You can view the entire season via Facebook Live, as I stated earlier.
Honestly, I love the idea and I think he's going to do well. However, I'm not a fan of the prices of tickets. He has to understand that these aren't high-profile names yet. The prices aren't terrible, but I think they're a bit on the pricey side, and I'm not alone when I say that. There's several big name websites and papers saying the same thing, but in do time, everything will come together for him. He's a great business man and salesman, there's no denying that. The prices are listed below if you're interested in that tidbit of information.
Courtside – $99.00
Mid-Court – $59.00
Above Mid-Court – $40.00
All I can really say in conclusion is that I wish him all the success in this that he deserves. And I have absolutely been watching the games whenever I've had the chance to check them out. You can check those games out on the league's official Facebook Page (JBA) and you can check the schedule, scores, merchandise and tickets sales on their website at www.jbaleague.com