Chet Holmgren shows flashes of all-around greatness (7-11-22)
By: Jonathan Mathis
Headline Photo Courtesy: NY Post
Skeptics are lamenting Chet Holmgren's skinny frame, bemoaning his lack of strength that apparently doesn't bode well for his potential at the next level. Scouts have immediately, and prematurely, labeled him a bust waiting to happen. They say he's too skinny. They say he will get pushed around. They say he doesn't exhibit the physicality of a traditional big.
It's crazy how quickly he went from a top NBA draft candidate to one of the most polarizing prospects in recent memory to potentially one of the biggest busts in NBA history. But look, it's difficult to tell who is going to be a bust. To say he won't amount to anything in the NBA is absurd. That's almost like saying the Popeyes chicken sandwich is overrated without even trying it. It's equivalent to saying every new Marvel Studios movie looks bad before seeing it. It's much too early for anybody to pass judgment on a player who hasn't played a single minute in the NBA.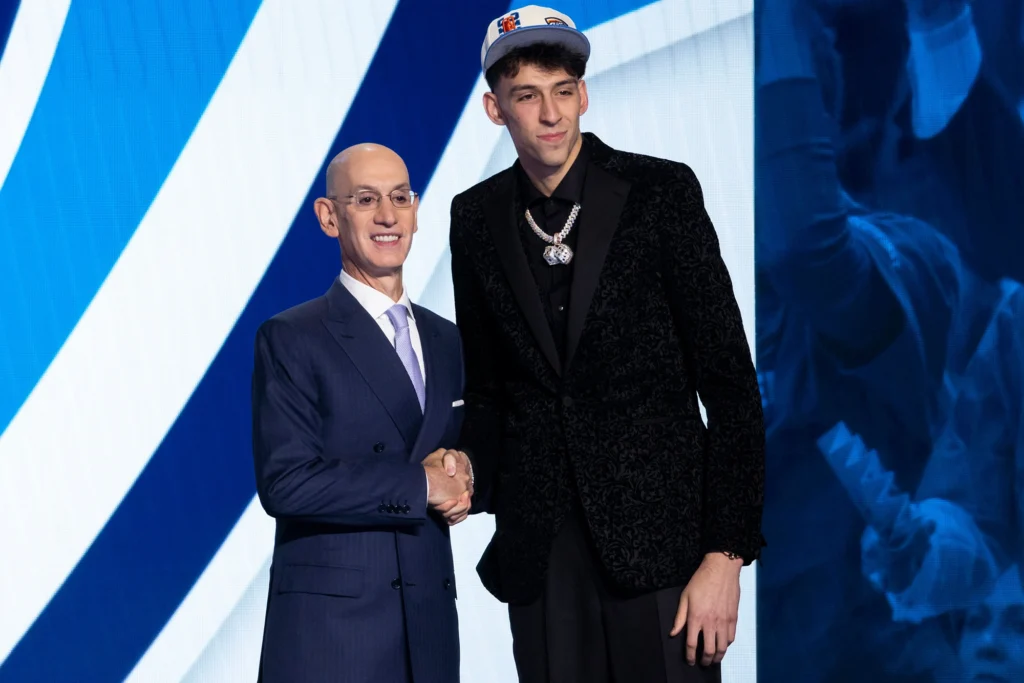 The 20-year-old unicorn was the top high school player in the country, the top freshman in college basketball, and the No. 2 overall pick of the 2022 NBA Draft, but who will he be in the NBA? The day might come when Holmgren shuts up everybody. The lanky, 7-foot, 195-pound Holmgren brings to the table a repertoire of unique tools that gives the Thunder a new element on both ends of the floor. The day might come when he silences his legion of doubters.
It was a recent Tuesday night, an NBA summer league game, in which he scored 23 points with seven rebounds, six blocks, four assists, and a steal in almost 24 minutes of playing time for the Thunder. But, in some people's eyes, he's not the best choice. One NBA assistant coach who recently watched Holmgren wasn't crazy about the 7-1 big man being this superstar. In Chris Mannix's recent piece, an NBA assistant coach doubted and questioned Holmgren in terms of his physique and athleticism.
"I'm not sold on him being a star," said an NBA assistant sitting courtside for Holmgren's debut. "He's obviously an excellent shooter, skilled, but he is so physically weak. He can't get by his defender, and he realized that early and settled for threes the rest of the game. He's so thin in hips and legs that he makes (teammate) Poku (Aleksej Pokusevski) look like he has thick legs. I don't think he'll ever fill out. He will need to make difficult shots this season to have a good year because he settles for jumpers and can't play inside. He was able to use his length to block shots on drivers tonight, but NBA guys will just get into his body. He has a long way to go."
I am fired up about this kid.
Yet nothing was more compelling than a scene reminiscent of last year's superb qualities, when, with the Gonzaga Bulldogs, he put his fingerprints on Gonzaga's remarkable season. It remains to be seen what will happen when Holmgren finally puts on his big-boy shorts and everyone gets to see how he will react going up against grown men. He's cool, calm, although a bit cocky, for having not played in a real NBA game. This is the young kid the Thunder will be counting on next season.
As he prepares to settle into his new role on his new team at the professional level, he can smoothly make the transition to being a true game-changer. He's good. He's actually really good, and shouldn't have problems unlocking the next level of his game. He almost certainly will, and he should be a top-flight NBA player. There is nothing to worry about when he has the potential to elevate the team's fortune with his freakish athleticism. Holmgren's Go-Go-Gadget arms and quick feet enable him to get by defenders and finish well in traffic. His length and agility make him compelling.
He gets your hate. He's hearing the criticism. He's using it as motivation. And he's coming for you. Most everybody has high hopes for him, though. You can't ignore it, you can't dismiss it, because, seriously, the dude has the handles of a point guard, he has great shooting mechanics and he's extremely competitive. This is the young kid the Thunder will be counting on next season.
Since he first came under the microscope, Holmgren's game has been often misconstrued by scouts and fans who make big assumptions because he's built like a toothpick. But he can firmly establish himself as an elite-level defender and efficient scorer, thanks to the ability and craft he has showcased. A lot of people are worried about his weight. That can change. If he works to put on some muscle and put on some weight, he will be able to hold up physically and survive a grueling 82-game season. In many ways, he's the embodiment of what the league is now.
If this was a preview of what's to come, it was something to get excited about. If he can bring what he did the other night in summer league, then he can fit seamlessly into the Thunder offense. Sure, it's only summer league, but if he can put on an incredible shooting display in a meaningful NBA game when the games count, he would live up to his billing as one of the best young players in the league. And considering how he's already shown flashes of why they're banking on him to become this two-way force, Holmgren's Summer League debut was not only dazzling but encouraging.
Sometimes, it's better to be lucky than good, and this is a perfect example, as one of the highly-touted prospects with the upside to blossom into a star was made available to them. There's something Giannis Antetokounmpo-esque about him when he puts the ball on the floor, steps into a mid-range jumper, shoots the three-ball and protects the rim. The truth of the matter is this: He's very good, but he's not Giannis.
Still, by comparison to Giannis, Holmgren has the attributes and physical profile that allow him to impact the game on both ends of the floor. There are some glaring weaknesses to his game but, because he can stretch the floor and finish at the rim, he will complement a bona fide one-two punch with Shai Gilegeous Alexander and Josh Giddey, two very young backcourt players. There are going to be some growing pains but, because he's an excellent shooter and an elite shot-blocker, he will evolve and adapt to the modern NBA. Those lessons can be painful but he can indeed grow from them.
As tall as he is with nearly a 7-foot-6 wingspan, Holmgren can be the model of what the modern NBA big man truly represents. It's a matter of survival. Proving and showing the world that he's NBA material. The centerpiece of this OKC project is Holmgren. His size, his craftiness, his versatility, his dexterity, and that soft touch, it was nice to see.