Hampton wins "The Battle of the Bay" over Norfolk State 17-7, move to 3-0 on the season (9-17-22)
By: Lamonte Thomas
Headline Photo Credit: HBCU Gameday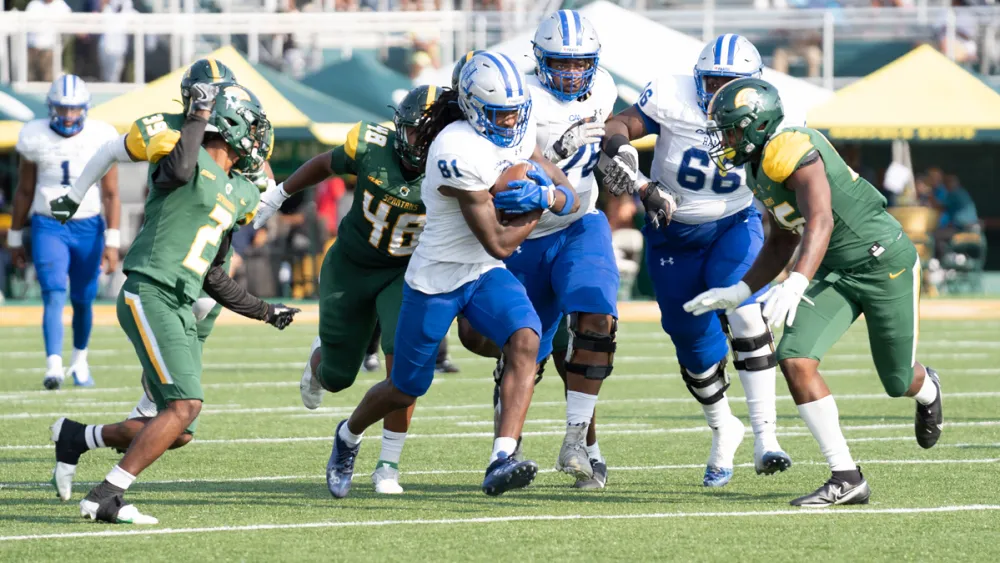 Hampton. Norfolk State. Dick Price Stadium. The 57th Battle of the Bay kicked off on Saturday, September 17th at 2 pm. Norfolk St led the series by one game coming in, and both teams could not forget Hampton's historic overtime win a season ago.
Hampton found momentum from the game's start, as Houston University transfer QB Malcolm Mays found the playmaker from Oscar Smith HS Romon Copeland on a big gain in the first drive. Copeland would end the game with 3 catches for 111 yards and a touchdown. The drive would end on a 23-yard touchdown pass from Mays to WR Jadakis Bonds, who hauled in his fourth touchdown in three games. Later in the first quarter NSU's Otto Kuhns, Sophomore QB from Ohio, found Da'Quan Felton on an 11-yard fade TD pass, tying the game 7-7 at the end of the quarter.

The game remained tied until the half due to some tough defensive play from both sides. Hampton saw interceptions from juniors DBs Stafford Everett and Michael Crawford while Norfolk State picked off two of their own in each half; Marquis Hall from Woodbridge, Va, and Virginia Beach's Joseph White each intercepted a Hampton pass.
Early in the third quarter, the iced game at 7 was yielded on the 75-yard Copeland touchdown reception from Hampton QB Christopher Zellous mentioned earlier.
Axel Perez added a 24-yard field goal for Hampton in the fourth quarter, where the game would end 17-7 in favor of the Pirates. Hampton moves to 3-0 as they visit Delaware (3-0) next week, while the Spartans of Norfolk State (0-3) will host St Francis University (1-3).