Kyle Busch wins at Fontana, Holds Off Chastain & McDowell (2-26-23)
Headline Photo Credit: USA Today
CALIFORNIA-We head to Fontana's Auto Club Speedway for the last time. They will be changing this over to a short track with no turnaround time for when the track will reopen. Kyle Larson on lap fourteen comes down while running eight for a possible engine issue. Kyle Larson will get the much need caution with the competition caution to get a lap back. However, that did not last long as they went behind the wall because they believe it is electrical and are going to try to fix it. When he does get back out, he will be held for a lap due to filling before the competition caution. When the green flag dropped again the racing got dicey quickly with three wide for the race lead. Brad Keselowski will bring out the next caution after contact with the wall and possibly Corey LaJoie. This will shuffle the field once again. Ross Chastain will make his way to the lead and while Ryan Blaney tries to catch up Ross will win stage one.
We get back to racing with stage two and drivers are three to four wide heading for the lead. AJ Allmendinger will bring out the first caution of stage two with a hard hit. We get back to racing and before we know it Tyler Reddick and Corey LaJoie got together and damaged both cars. As we get back to restarting cars stack up and caused the largest wreck Auto Club has seen. This takes out multiple cars from contention due to damage. They do get back started and there were some big moves made by several drivers including Denny Hamlin. Ross Chastain uses a power move and gets around Denny Hamlin and gets the lead back. He will win stage two.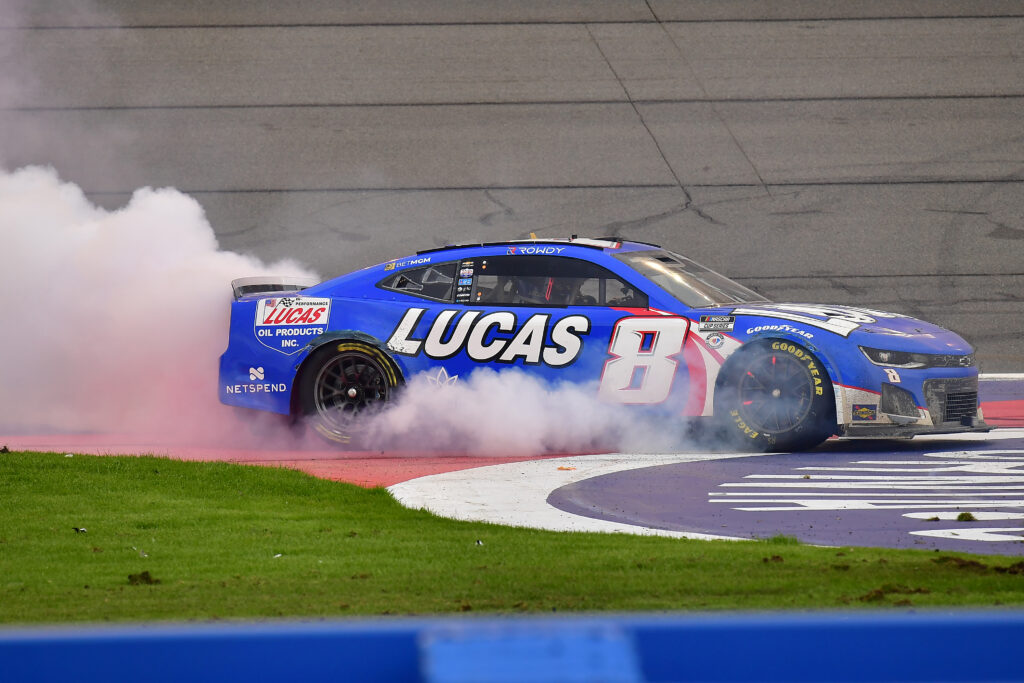 We head into the final stage and Kyle Busch and Kevin Harvick battle with who will win the battle off pit road. There were mere inches between the two of them and Kevin Harvick. Austin Cindric has a huge save, but Ty Dillion has an issue and has no power. The restart happens and a huge battle happens. Joey Logano, Ross Chastain, Chase Elliott, and Daniel Suarez are all making huge moves. Ross Chastain and Kyle Busch eventually made their way to the front. Now Kyle Busch and Ross Chastain go to battle for the lead. Everyone will pretty much need to come down and pit. They will at least need fuel. Most will probably want tires as well due to the track eating up tires. Kyle Busch and Ross Chastain came down the pit road at the same time. However, Kyle Busch and his team got him out the fastest. Once he was able to get around Ross Chastain and Michael McDowell. He then held on for the remaining laps even with a couple of close calls with other drivers possibly bringing out cautions. Kyle Busch will be our unofficial winner at the final Auto Club race.