Joey Logano Grabs Win #1 On The Season, Takes Atlanta (3-19-23)
By: Becca Cottingham Quimby
Headline Photo Credit: David Yeazell-USA Today
ATLANTA, GA-We head to Atlanta Motor Speedway for a beautiful yet cold day. Joey Logano will bring us to green and he will keep the lead. We will only get ten laps in before the first caution comes out. The car comes out from under Bubba Wallace and he hits the inside retaining wall. We will get a restart and all of Team Penske line up one right behind the other. For most of the first stage, we will see two lanes of racing. Then it goes three wide for a short period. We then get down to the signal file and multiple drivers try making a second lane to pass. They would fall backward. Joey Logano will keep the lead the entire stage one and will win stage one.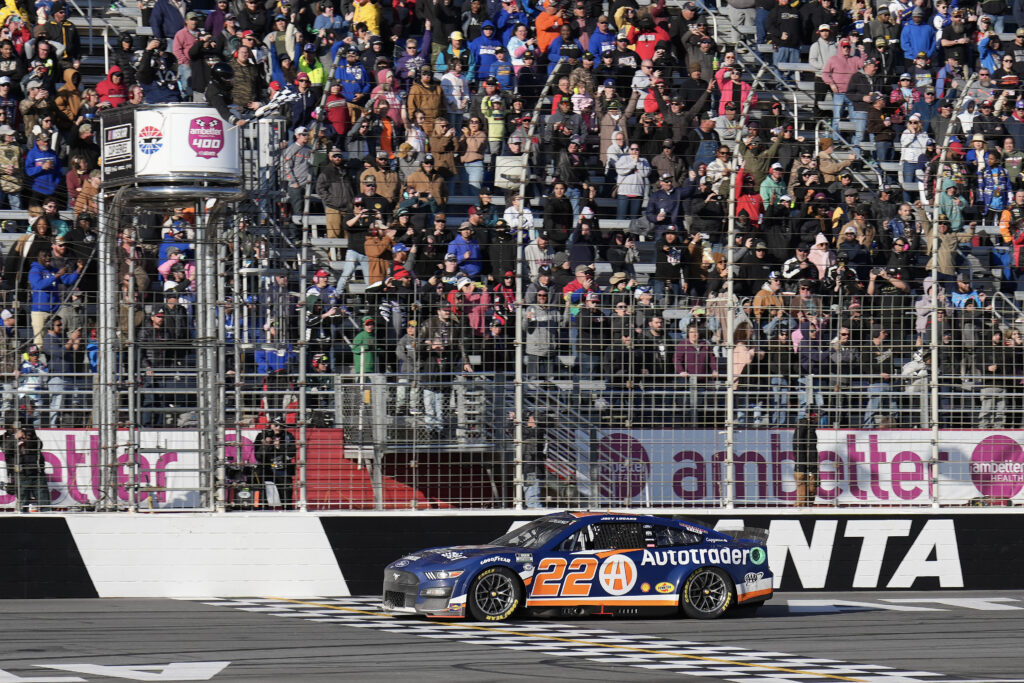 We get back to racing with stage two. Kyle Busch made it off of pit road first and will lead us back to green. So Kyle Busch and Ryan Blaney will battle back and forth on who will keep the lead for the opening laps. Then the charge comes from Joey Logano back to the front after being moved backward during pit stops. He will lead everyone up to the green flag pit stops. This is where drivers and crews cannot afford to make any mistakes. However, mistakes happen for multiple drivers: Ryan Blaney to fast on the pit road. This is followed by Ryan Preece having a commitment cone violation. Along with Cody Ware having a loose tire. With multiple penalties, most of these drivers will go down two laps due to the pass-through penalties. Joey will start catching up to the back of the pack and is trying to use it to his advantage. However, at the very last moment, both Tyler Reddick and Austin Cindric make moves. Austin Cindric just does edge everyone out for the stage two win with a push from Alex Bowman.

We enter stage three with teams gambling. Aric Almirola and his team took fuel only and no tires to start at the front. Ricky Stenhouse Jr was right there beside him. Kyle Larson has been three wide more than anyone else. In the back of the pack, we are seeing three-wide racing with multiple cars with fresh tires. Denny Hamlin made his way to the front to lead laps even with Ricky Stenhouse Jr putting multiple blocks on him. We then see Kevin Harvick out front and Ross Chastain has a huge head of steam going into the turn. He gets close to the bumper of Kevin Harvick trying to give him a push and it ends up turning him around. It becomes a huge ripple effect with multiple drivers collected in the crash. The crash had ten cars involved to some extent. Then Ty Dillion and Denny Hamlin make contact on the pit road while Ross Chastain is run off the pit road. We barely get back to racing and another accident happens as the aggression has amplified. Aric Almirola and the team gambled again with tires. They had a tire blow and this collected Kyle Larson who was directly behind him. Three additional drivers were hit or got some of the damage. Both Aric and Kyle Larson are out of the race. When we go back to racing we see Brad Keselowski out front leading. He started blocking as he saw Joey Logano getting closer. Brad Keselowski and Joey Logano go back and forth leading. Coming down to the last laps Brad Keselowski had a choice to make on who to attempt to block. Brad blocked what he thought was the correct lane, but it allowed Joey Logano to make his move. Christopher Bell pushed Joey Logano out front and he was able to keep the lead. He is the unofficial winner.