Kyle Larson Starts His Playoff Run On The Right Foot, Wins At Darlington (9-3-23)
Headline Photo Credit: David Yeazell-USA Today
We head into our first playoff race at Darlington Speedway known as The Lady in Black. This track can be very unforgiving as the track is hot and some in the shade. We have four races before four drivers will be cut out of the playoffs. Christopher Bell will lead us to green and will take the lead and Denny Hamlin will fall back as Tyler Reddick surges forward. Christopher Bell leads until we hit green flag pit stops. Brad Keselowski and every other driver are being blinded by the sun. Most will have sun shades or a film that they can remove once the sun does set. Michael McDowell will start the pit stops and from there, we have everyone cycle through. Ricky Stenhouse Jr. gets hit with a penalty of being too fast entering pit road. This will cause him to do a pass-through penalty and he will probably lose up to two laps. Christopher Bell and Ross Chastain both had long stops due to mistakes. This allows Tyler Reddick to take over the lead. Then Denny Hamlin goes to battle with Tyler Reddick. Denny Hamlin gets around Tyler Reddick for the lead. We see Ross Chastain and Kyle Larson get together again. They got together last Spring. Kyle Larson makes it past Ross Chastain. He will try to get Tyler Reddick before the end of the stage. Joey Logano has managed to get some Darlington stripes and may have toe-link damage. Denny Hamlin will win stage one while Bubba Wallace spins out and saves it at stage one.

We start stage two and Denny Hamlin takes the lead. Everyone does hit pit road just over thirty laps in as tires wear quickly on the Darlington track. The cars are also changing as the sun is setting and the track is heading into darkness. The overhead lights have come on but only part of the corner lights have. Christopher Bell makes contact with the wall and has his Darlington stripe and more. He hits the pit road under caution just before the red flag. NASCAR eventually throws a yellow flag to see if they can fix the lights. The yellow will turn into a red flag until they get the lights fixed. We get a large check-up on the restart as Denny Hamlin though William Byron may try to get a run on the start. This triggered a chain reaction and drivers either bumping others or going wide to avoid being hit. Everything was going smoothly until an accident happened with BJ Mcloud stalling on the track due to some kind of engine failure. The race gets restarted and then Ty Gibbs and Austin Cindric get into one another. This leads us down to two laps in stage two. Denny Hamlin will hold everyone off to win stage two. Ricky Stenhouse Jr. who just got back on the lead lap raced his way back into one stage points.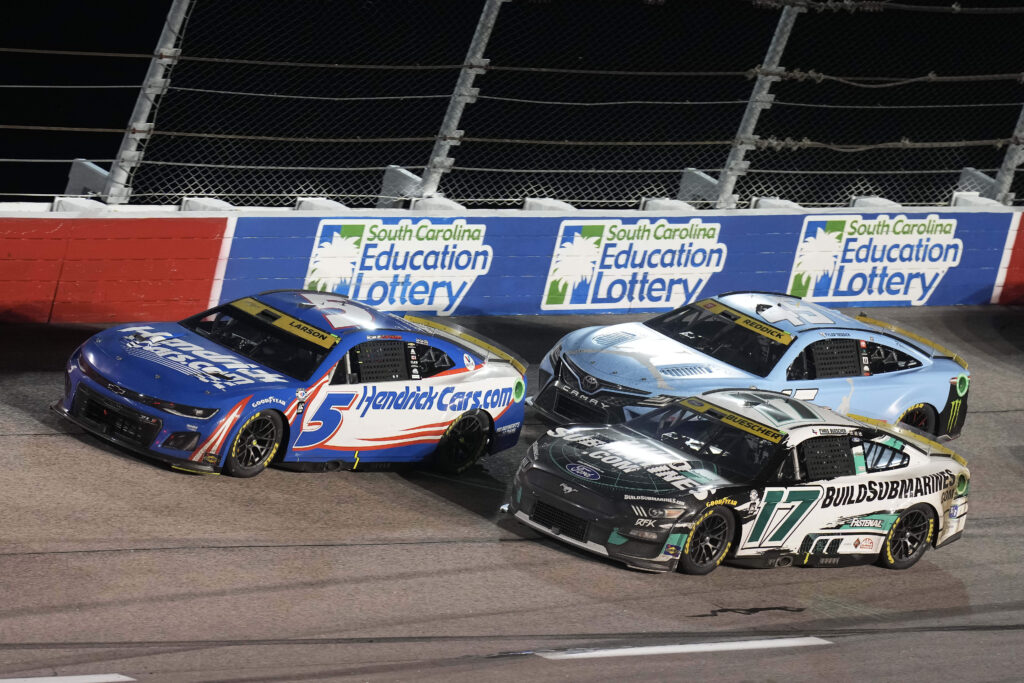 We will restart stage three with a mix of old and new tires. As several teams opted to stop and get tires while others did not come down to get fresh tires. This is because most only have roughly six green flag laps on them. Denny Hamlin and Kyle Larson will bring us back to green. About a hundred and ten and fewer to go we start to see some of the leaders fall off due to issues. Kyle Larson falls from second to fifth. Just before that Tyler Reddick radios in that his car is not registering what gear he is in even though he is shifting. Then his car pops out of gear by himself. Kyle Larson also had something happen and he fell to fifth. With ninety-eight laps left, we see Kyle Busch hit pit road early and this starts green flag pit stops. Denny Hamlin has to make two pitstops for a possible loose tire. He never got up to his prior pace. Tyler Reddick will take over the lead through this process. This possible loose wheel has pushed Denny Hamlin to thirty and a lap down. Kevin Harvick commented himself to Pitroad to attempt to leapfrog Tyler Reddick after they were battling on the field. Tyler Reddick slows down super quick causing Ryan Newman to get into his rear and spin out. Had Kevin Harvick continued down pit-road without service there would have been no penalty. But they decided to go ahead and pit and do the needed service. This causes a penalty and sends Kevin to the back. Kyle Larson takes over the lead with fifty-one laps to go. Right after we got back to racing and Daniel Suarez and Alex Bowman both ended up in the fence. Harrison Burton also got collected in that accident. Ryan Newman will also lose a tire on pit road as they did not get the lug nut tight. We get back to racing and some drivers are three wide. Todd Gilliland and Kyle Busch make contact. This then collects Christopher Bell, Michael McDowell, and Denny Hamlin. We get back to racing and Kyle Larson and Tyler Reddick go racing hard against each other. Both hit and bounce off the wall. These two will battle hard for the remaining portion of the race. Each one wants the win and to guarantee their spot in the next round of the playoffs. Also to have that Darlington win for the team. Kyle Larson will be our unofficial winner at Darlington as Ricky Stenhouse Jr has issues.