Melo Forms His Own Triangle Offense With Thunder!
By: Tyrone Montgomery Jr.
America is filled with tons of fast food chains. I mean let's be honest here, it's convenient for us and it is quite delicious from time to time. But at the end of the day, all fast food is bad for you and doesn't consist of a healthy diet or even promote a healthy lifestyle either. Some fast food chains, of course, are better than others when it comes to customer service. As customers, that is extremely important to us. We want to be treated like royalty. To help you understand what just happened in the NBA, allow me to compare it to fast food since we all love it so much. Carmelo Anthony just left Church's Chicken and has now joined Chic-Fil-A. The New York Knicks are Church's Chicken. Poorly managed, bad company, frequent changes in management and more issues I choose not to say. He wasn't treated like royalty at all. In fact, he was treated like a peasant. He was treated like a worthless man.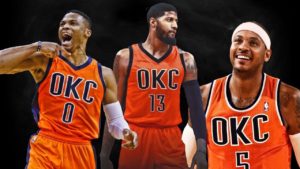 Carmelo Anthony is a 10x All-Star and still has been bashed, belitted, and has  been the center of all trade talks in New York. Former Team President , Phil Jackson even went as far as publicly criticizing him numerous times during his tenure there. That is what I call "Poor Management". Anthony's wishes came true over the weekend, as he was traded to The Oklahoma City Thunder. Life has just gotten good for the former scoring champ. OKC is Chic-Fil-A. Good management, good employees, true professionals, excellent customer service, and they always say "Please" and "Thank You." You think New York's front office was pleasant with Anthony? Do you think they were polite or even appreciative for all that Carmelo Anthony has done for them? If it wasn't for Anthony, that team wouldn't have won 20 games these past few seasons. They would be the Sixers of old, only without tanking. They would be playing hard every night, only resulting in losses. Good management is always looking to improve, they want to better the company. Not only do they have the "Employee of The Year" in MVP Russell Westbrook, not only did they add All-Star Carmelo Anthony, but they also added All-Star Paul George this offseason.
Carmelo may have left the triangle offense under Phil Jackson in New York, but it appears he's completing a triangle offense of his very own, completing a Big 3 in OKC. Over the years, we have noticed a trend. You're not makin the playoffs without an All-Star in the NBA. You're not advancing if you don't have two All-Stars, and you're not making the finals without three. When it comes to the defending NBA Champions Golden State Warriors,  you're not winning the championship without 4.
Carmelo Anthony will finally be treated like royalty now. This trade instantly makes The Knicks a bottom 3 team in the league. It also makes OKC the best team to beat Golden State this season. The NBA is winning big time here. Why? Because The Knicks and Thunder are opening up  the season against each other on a primetime game. Tune in Thursday October 19th, 8 PM ET on TNT for one of the "Games of the Year."