Luck Of The Irish – Celtics Pride!
By:Tyrone Montgomery Jr.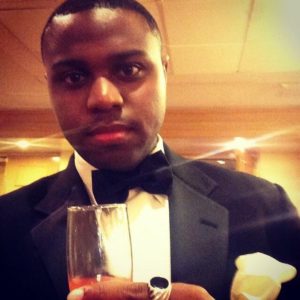 Over the summer, Kyrie Irving demanded a trade from the Cleveland Cavaliers. New Cavs GM Koby Altman, granted his request as Irving was traded to The Boston Celtics. This took many people by surprise because the Cavaliers have been to the NBA Finals 3 consecutive seasons. Lebron James was said to have been "Blindsided" by the request. Of course, Lebron James gets a lot of the credit of the success there in Cleveland. The reason behind that is because Kyrie Irving was unable to even bring this team to the playoffs on his own. But true basketball fans know that Kyrie Irving has a lot to do with the success of those championship runs. Irving was mentioned to have wanted "Out" because he wanted a team of his own.
There's this thing called good luck and bad luck. And sometimes it could be a coincidence. On the opening night of the NBA Season, The Celtics experienced a little bit of it all. The coincidence is that Kyrie Irving started the season playing against his former team, Lebron and the Cleveland Cavaliers. The Celtics had a major offseason overhaul of their team. They completely transformed the team, bringing back only 4 players from last year's roster. Not only did they trade for an all-star in Kyrie Irving, they also signed one in free agency too, Gordon Hayward. The bad luck is that his season was cut short as he didn't even make it to halftime with a scary leg injury ending his season prematurely. This doomed Boston fans, but it could have been a blessing in disguise, maybe even good luck and here's why. The Celtics had the #1 overall pick and many believed that PG Markelle Fultz was the clear cut pick there. They already were set at PG, so they traded the pick to Philadelphia and recieved the #3 Overall Pick. There, they drafted Jayson Tatum. With the Gordon Hayward injury, this man now has the green light and is a starter for this team. He has proven to be an extremely talented scorer already. He is averaging 14 Points/Game on 49% Shooting. Jaylen Brown has also proved his worth this season too. Last season, we looked at him only as an elite defender. Guys that come to mind like that are your Tony Allen's, Andre Roberson's, and your Michael Kidd-Gilchrist's. All of those players are horrible offensively.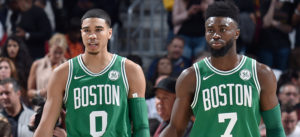 However, this season, Jaylen Brown is proving all of the doubters wrong while he is averaging 15 Points/Per Game. These 2 guys have proved to be cornerstones of this franchise, and they haven't even scratched the surface of their ceiling. The Celtics are hot! They are on a 13-Game winning streak. The most remarkable and significant thing regarding this winning streak is that Al Horford and Kyrie Irving both missed 2 games each. This shows how deep this team is, who is actually missing their second best player. I said it before and I'll say it again. This team is gearing up for the future. They know they can't beat Lebron. But they're also fully geared up now in case Lebron suffers a surprising injury. This team will own the East once Lebron leaves for LA (If he decides to sign with them). Not only do they have a good team now, but they also own A Laker's pick which is expected to be in the top 5 for next year's draft. This team has a chance to shock the world. 31 teams have been trying to figure out how to beat this Superteam out west. The Celtics may be the Kryptonite to them. Don't look now but They match up EXTREMELY WELL with The Golden State Warriors. The Celtics have alot of scorers and wings who can facilitate the offense, just like The Warriors. They are also full of 2 way players, just like The Warriors too.
Another coincidence is that they will put their 13-Game Winning Streak on the line Thursday night against The Warriors. Will the Celtics extend the streak to 14 games? Tune in Thursday Night at 8PM ET on TNT ladies and gentlemen, because this is gonna be a thriller at The Garden.