"Tales Of The Week" Week 6 of 2019 NFL Season (10-15-19)
By: Tyrone Montgomery Jr.
Headline Photo Credit: Gregory Shamus/Getty Images
Brown Is The New Black
There are sad times in the city of Cleveland right now. It's almost like being at a funeral, because the Browns just can't seem to get it together. This is by far the most talented team they've had in years. It may even be the most talented team they've had in decades actually. However, the Browns are who we thought they were. Adding Odell Beckham Jr. was the right move. I don't want to hear he's a distraction. I don't want to hear he's full of drama or he's a diva. Odell Beckham Jr. is one of the best at what he does and any team in the league would love to have talent like him on their roster. He's been relatively quiet this season despite the team's struggles. However, his name has been in trade talks. It's unclear rather it's true or not. What is clear is that Baker Mayfield is struggling big time. This is only his second season. Sophomore slumps are real, so this should have been expected. The O-Line is bad as they have been struggling to protect their QB all season long. The defense is solid. It isn't the best but it isn't the worst either. This team's failures fall on Baker Mayfield. He has to make better decisions in the pocket. This team is playing like dead weight at the moment, hard to move and hard to motivate. They aren't playing with heart. This will be a learning curve for Baker because this year just won't be their year to make a big splash just yet.
New Coach, New Team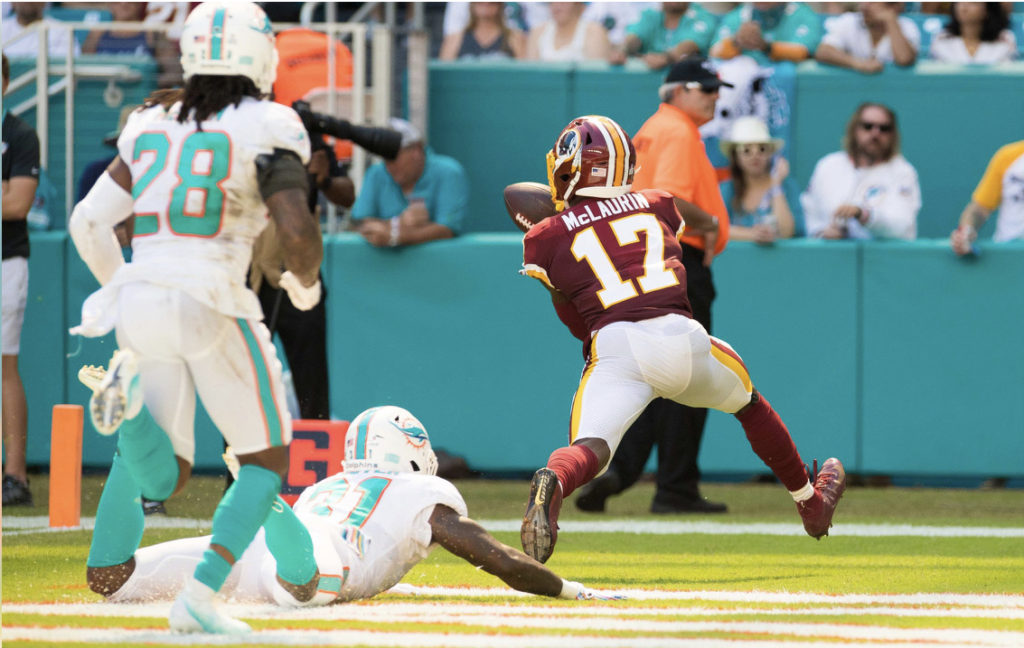 The Redskins have begun a new era with Interim Head Coach Bill Callahan and they are already seeing immediate success. Now, of course, it was the Dolphins. But let's give credit where credit is due. A win is a win. The Redskins edged the Dolphins 17-16 in Miami. They were led by their defense. They harassed QB Josh Rosen so badly; he got benched after he threw his 2nd INT of the game. QB Ryan Fitzpatrick relieved the struggling Rosen. The Redskins took it easy in the matchup offensively. They eased themselves into the game. The Redskins we seen in this game was the Redskins that we all expected to see all season long. Case Keenum is a serviceable QB. Laugh and call me crazy, but Case Keenum is a QB that could win you a Super Bowl in the right situation. Before injuries, the depth at the RB position for this team was terrific. The problem was that Adrian Peterson rushed for over 1,000 Yards last season so he had no business being inactive in week 1. He wasn't hurt and he is in the best shape of his life. Peterson not dressing up in week 1 was a coaching decision and it cost them the game vs. the Eagles. They have weapons too. Rookie WR Terry McLaurin has been a pleasant surprise for the team. He scored 2 TD's vs. the Dolphins. McLaurin has been doing this all season long with 5 TD's for the season now. The Redskins are coming. Although they played the Dolphins, this is something to build upon. They have everything in place to win and be successful, including a former Heisman Trophy Winner, rookie QB Dwayne Haskins. The season is already loss for the Skins. However, next season, now that they have gotten rid of bad coaching, expect the Redskins to give the Cowboys and Eagles some problems in the NFC East.
Windows Close Fast
Everyone is always trying to improve. Apple is now out with the IPhone 11. Android is set to come out with the Galaxy S11 early next year. The world is growing and improving right before our very eyes. Competition around the NFL is getting better and better. Daniel Jones is playing good football for the Giants. The Jaguars may have found silver and gold with Nick Foles and Gardner Minshew and the crazy thing is Gardner Minshew is the gold. The Buffalo Bills are 4-1! The New England Patriots aren't the only undefeated team in the league. Tom Brady's former backup, QB Jimmy Garappolo has the 49ers at 5-0. The NFL is growing league-wide and this should have us all worried. There's one team in particular who really should be worried and that's the Philadelphia Eagles. They may be a little overrated. Maybe they were a little overhyped this season like the Cleveland Browns. One thing we do know and can clearly see is that their window of opportunity is closing right before our very eyes. The Redskins are coming. New Coaching will steer them in the right direction. While Toyotas are nice, the Redskins will much rather have a Lexus. Dwayne Haskins will have the starting job by the end of the season. The Cowboys are struggling. However, they have a bit of a Big 3 in Dak, Zeke, and Amari. Zeke can literally carry you. The Giants have a workhorse of a back too in Saquan Barkley. Zeke was the best RB in the league. But it seems like Barkley may have taken reign of that throne. He now has a QB that can win games too, Daniel Jones. Philly has been ranked pretty high to start the season. Despite playing .500 football and having a historically bad passing defense, they still remain ranked fairly high. Carson Wentz is playing prime year's football already. Despite his skill and talent set, along with the monster numbers he's been posting, this team needs a bit of a revamp. Defensive Coordinator Jim Schwartz hasn't gotten the job done all season and dismissing him from the program may be able to prolong the window for this team. Sometimes you have to plan ahead. Unfortunately, looking ahead, as of now, the Eagles aren't the team to beat in this division.
Chiefs vs. INDIANS
The only thing about being great is that everyone will always be out to get you. Patrick Mahomes has taken this league by storm. From no look passes to fancy footwork in the pocket, no one seems to be able to find kryptonite for superman. With 2 consecutive losses, doe the league now have the Chiefs figured out? Here's what we do know. The Chiefs defense is pretty lousy. They defend horribly all across the board. They're 28th in the league in total yards allowed per game and 30th in total rushing yards allowed per game. As great as the MVP Pat Mahomes is, this team will let us down if they continue down this path. There are 2 sides of the ball. The Chiefs are laces on offense and they fall upon their faces defensively. They have real issues and they may want to make a trade sooner rather than later.