The Statman UFC Breakdown: Legacy On The Horizon April 2021(4-10-21)
By: Russ "Statman" Taliaferro
Headline Photo Courtesy: Jeff Bottari/Zuffa LLC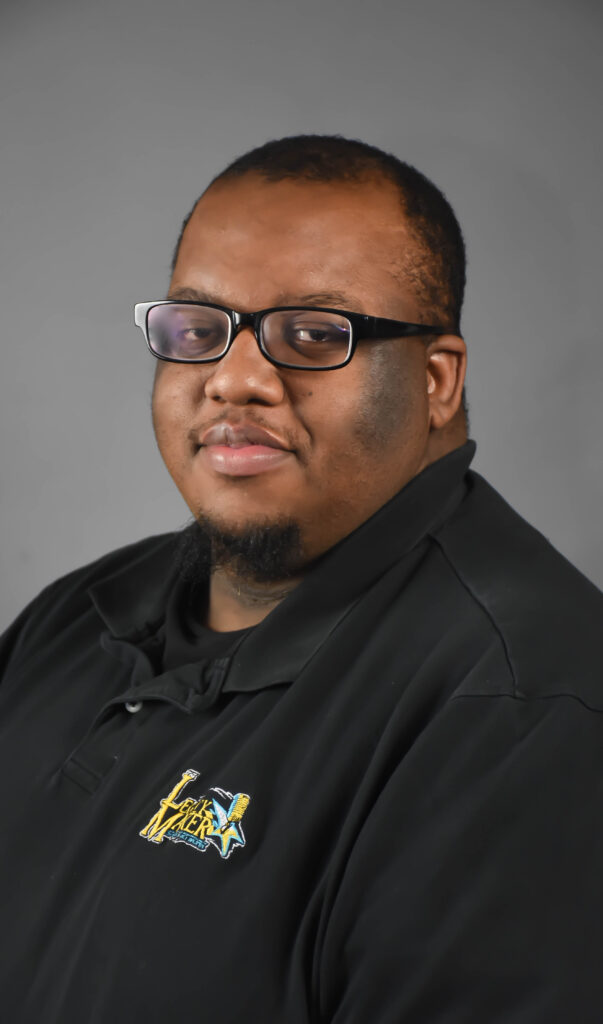 Over the last few weeks, it seems like there have been big fight announcements coming one after the other. With luck & health, we hope it's not going to stop. We certainly are not going to complain if more come either, but with all these fights coming at you, it can be a little confusing on what to look out for. That's where I come in. Statman is here with my new monthly series & give you my 5 fights to watch in April. After having the first weekend off, this month only has 3 fight cards & is guaranteed to be an action-packed month of quality fights with the return of full capacity crowds & I promise that I'll try to pick just one of the title fights from UFC 261, as hard as that'll be. So without further ado, let's get started with the debut edition of Legacy On The Horizon!!
3# Nina Ansaroff vs Mackenzie Dern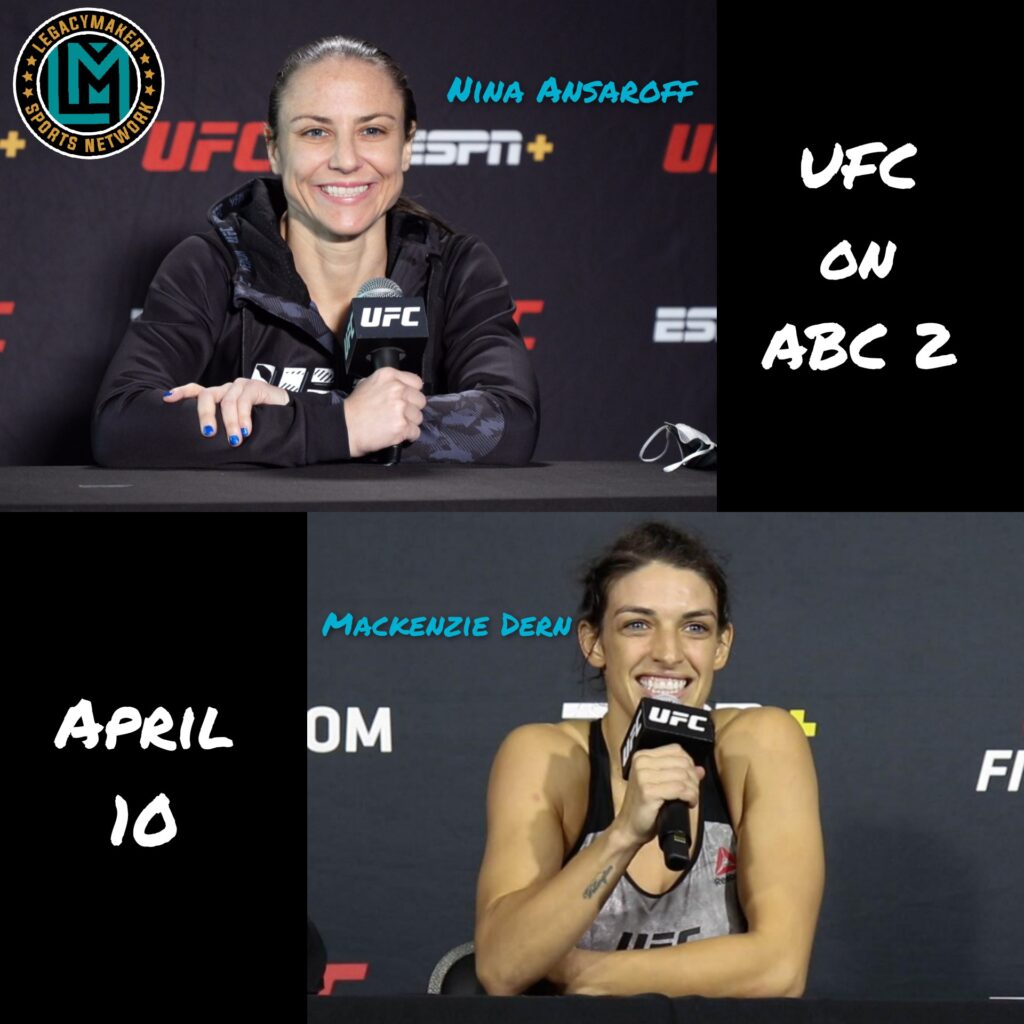 UFC on ABC: Vettori vs Holland, April 7
​The ladies, or more specifically the mothers, are up first here & you shouldn't write them off so quickly. Both of these ladies are extremely dangerous. Dern herself is MUCH more than a pretty face. She is a scary BJJ black belt with an ever-evolving stand-up game. And her BJJ black belt is a legit Gracie black belt she earned from her father, Megaton Dias, who earned his black from Helio & Royler Gracie themselves. If you know, then you know, & you should know that even though you can work your way to black belt under other trainers, a Gracie black belt just hits on a different level. She's shown her ground dominance since making her UFC debut, sporting a 6-1 octagon record, 4 of those wins coming by way of submission. This will be her 3rd fight under striking wizard Jason Parillo, after being asked to leave the famed Black House gym because of a financial dispute. Ansaroff on the other hand is a bit different. She's coming back from her maternity leave, which she's said could have ended sooner. Having not fought since a June 2019 loss to Tatiana Suarez, Ansaroff & wife Amanda Nunes (Yes, that Amanda Nunes. The baddest woman walking planet earth Amanda Nunes) welcomed their baby girl Raegan last September. Speaking of Nunes, in the lead-up to her last fight against Megan Anderson, I pointed out that having a child changes you & completely changes your motivation in the world, which shouldn't be a surprise to all the parents out there. When you have someone as dominant as Nunes is, you wonder what could motivate them to keep going & get better, & I angled that the new baby would do that, which it did (See the results of UFC 259 for proof). I believe the same could happen for her partner Ansaroff. Even though she's only a purple belt in BJJ for now, being a 3rd-degree black belt in Taekwondo makes her an enormous threat on the feet. Also, being around Nunes this much, some of that greatness has to rub off a bit, right? As mentioned before, both of these women are UFC mothers, but one thing Ansaroff doesn't want to have in common is a loss in her return after maternity. I truly believe the winner of this fight is maybe 1 more win away from challenging for the belt at 115lbs, especially with a finish here. On a random side note, who wouldn't want to see a married couple on top of 3 different UFC divisions? How would that not be cool?
#2 Robert Whittaker vs Kelvin Gastelum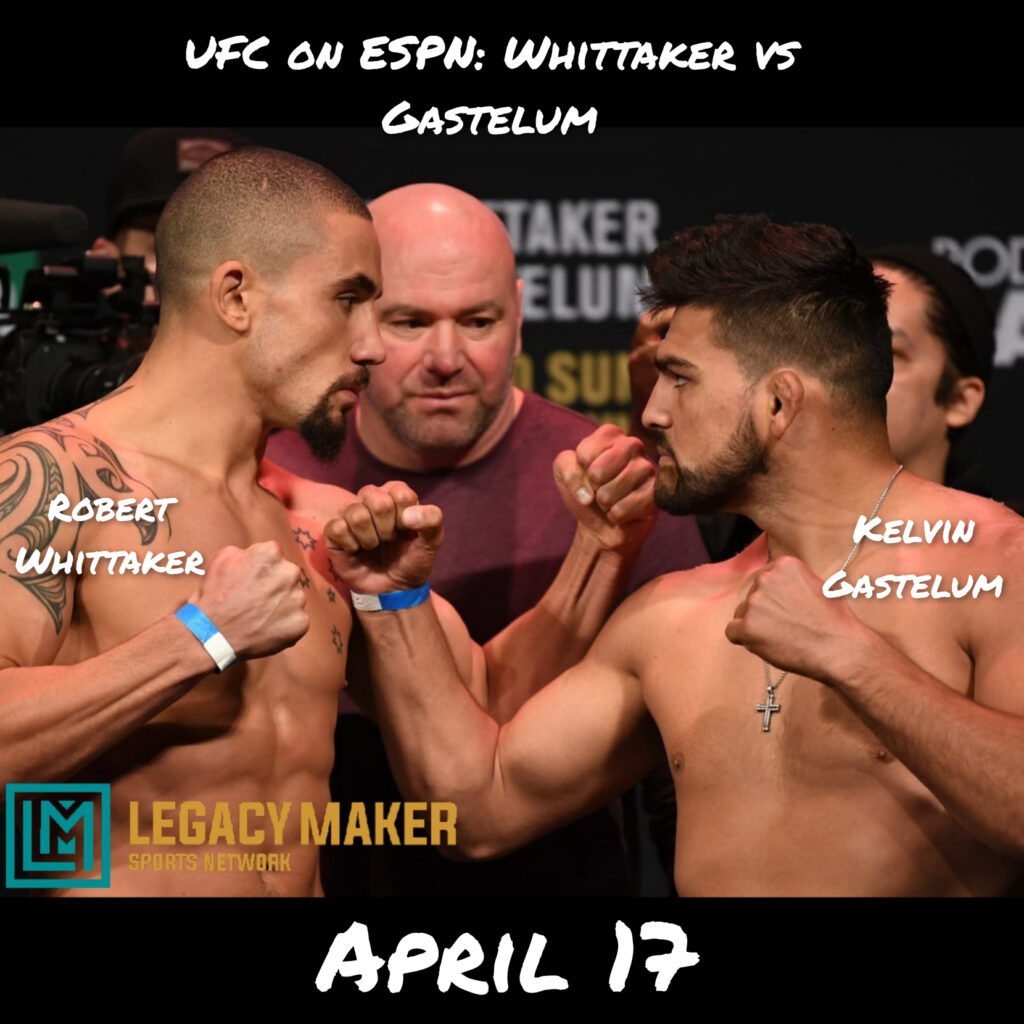 UFC on ESPN: Whittaker vs Gastelum, April 17
​I feel I must start this out by saying 2 things. Number 1, I didn't think I'd have that to say about the ladies. Sorry if I rambled on a little bit & if the following ones aren't the same lol. Number 2, this spot here was between this fight & the Vettori/Holland bout, but with Till getting hurt making way for Holland to step in, that tipped the scales for me to choose the other "short notice" bout. This fight has been almost 3 years in the making. The original pairing was announced back in July 2018 as they were named the coaches of The Ultimate Fighter season 28. As it was customary for the TUF coaches to fight after the end of the season, a Middleweight title fight was tentatively scheduled for UFC 234 since Whittaker was still the reigning champion at the time. However, cards are always subject to change as Whittaker had to pull out of the fight hours beforehand because of emergency surgery due to an abdominal hernia & a collapsed bowel. Yeah, I had to look that up too, but I don't recommend the pictures for anyone who hasn't. Gastelum was of course pulled from any fight that night, but would get his shot at the interim belt 2 months later, losing to current Middleweight king Israel Adesanya. Fast forward to March 2021 & we have Kelvin Gastelum stepping in for Paulo Costa to finally (fingers crossed) take on the Aussie Whittaker. Both have similar starts to their UFC career, winning their respective seasons of TUF, then after that is where they started to differ. Whittaker continued to try his luck at Welterweight, amassing a 3-2 record, but he soon realized it was too much weight to cut. Ever since then, the former Middleweight king has been one of the best at 185lbs for the better part of the last decade. A tough-as-nails brawler that took on all comers. How are you going to question a man's toughness when that man goes the distance with Yoel Romero in back-to-back fights? Aside from the 2 losses at 170, his only other loss in the UFC came at the hand of the current king Adesanya. Gastelum on the other hand tried for a bit longer at 170lbs. He won TUF 17 at 185 but felt he'd have a better chance at gold if he lost the extra 15lbs. It started ok, but he'd eventually have problems cutting the last few pounds, even missing weight by 10lbs once. He eventually realized 185lbs was his rightful home & made a run to gold there, which is where the original Whittaker matchup comes back into play. Now that both fighters are healthy (fingers still crossed), we should be treated to an amazing technical bout. Whittaker, who is a black belt in 3 different martial arts, is a precise technician who can flip a switch & isn't afraid to brawl with anybody. Gastelum is a hard nose wrestler with a black belt in 10th Planet Jiu-Jitsu & is equally unafraid. His standup is evolving too well since he started training under Master Rafael Cordeiro. Fireworks are almost guaranteed here, with the winner having a strong case to welcome the champ back to 185 after his failure for "champ-champ" status.
#1 // ALL of the title fights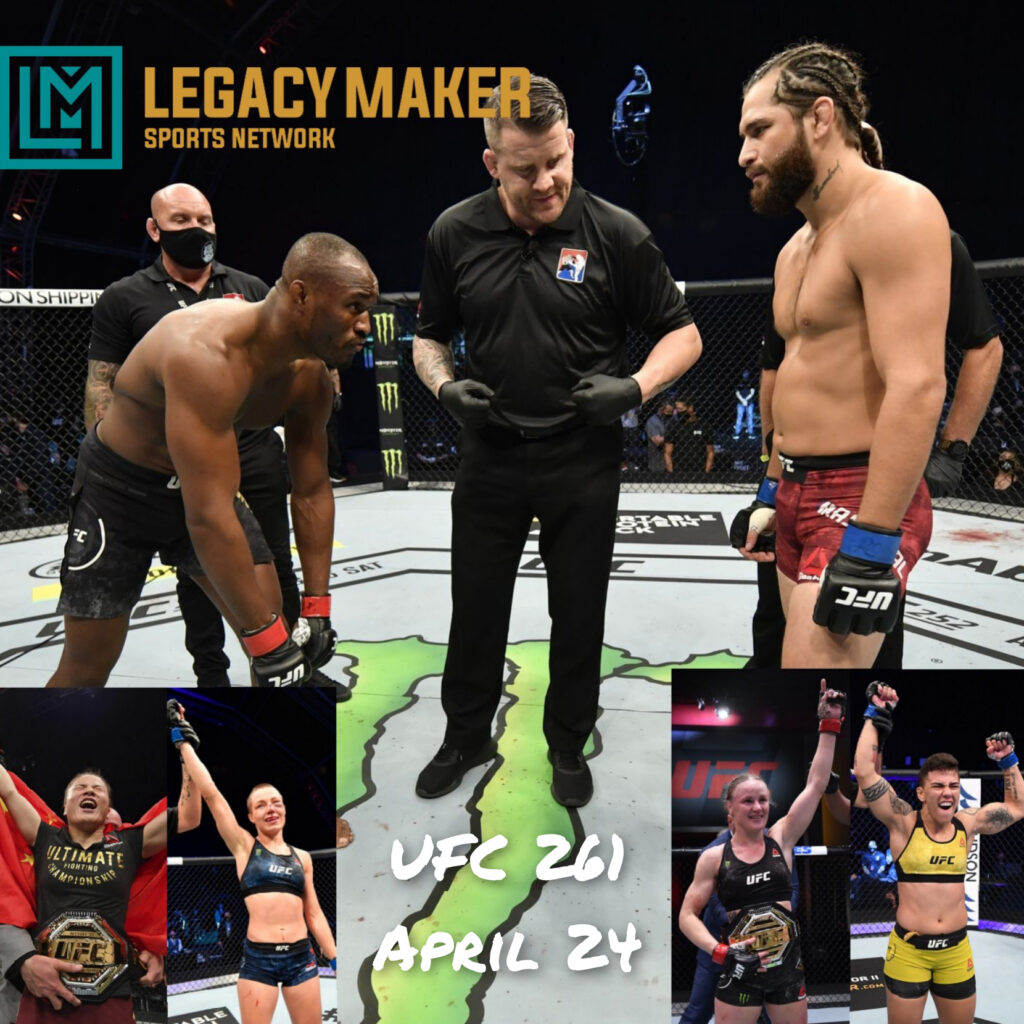 UFC 261, April 24
​Technically, I didn't lie to you. I said I'd try to only pick one of these title fights, so I chose all of them instead, but can you blame me here? How did you not see this coming? We start with the Women's Flyweight division, where reigning queen Valentina Schevchenko is arguably the most technically sound fighter on the ENTIRE roster, male or female. She looks to add another former UFC Strawweight champion to her hit list as Jessica Andrade is adding the extra 10lbs to attempt a coup at 125lbs. The champ Schevchenko is widely considered the best female in the UFC not named Amanda Nunes & hung around with the Lioness for 8 whole rounds in her only 2 UFC losses, with some saying she even won the second meeting. A win here could set up a trilogy match & TRUE female super fight with Nunes. Andrade isn't going to make it easy on her, as she may be the scariest challenger since she won the belt against Jędrzejczyk. It shouldn't be a surprise if you've seen her fight before, but Andrade is a scrappy Brazilian brawler that has the power to cut the lights with any punch. It's been almost 2 years since she won the Strawweight belt with a scary nasty slam of then-champion Rose Namajunas, but lost the rematch last year. The rematch was only 3 rounds as Andrade had already lost the belt to Zhang Weili. Speaking of which, our next fight sees the Strawweight queen & first-ever Chinese UFC champion Zhang Weili, looking to stop any attempt by "Thug" Rose Namajunas in becoming the first 2-time Strawweight champion in company history. Another quick side note, which you should get used to by me; this is one of my favorite UFC nicknames of all time. "Thug" Rose is just that, a Thug! She uses her long limbs to keep you off balance & threatens to sneak a submission right up on you before you can realize what happened & shows no emotion while she's taking care of business. The lack of emotion could come in handy here as the champ Zhang Weili is possibly the hardest hitter of any UFC female & she may need to hide how much these punches could hurt. Don't believe me? Look at Joanna Jędrzejczyk's face after her fight with the champ last year. Weili mangled her face (possibly an understatement) in what was one of the greatest title fights in UFC history. Most fighters might need a resurrection of sorts after suffering that much damage. Looking for one, because here comes Street Jesus. The final title tilt sees Jorge Masvidal answer the question of "Would a full training camp make a difference?" as he gets a second go at the reigning, defending, & most certainly undisputed Welterweight champion Kamaru Usman. The pairing first met when they headlined the debut event on Fight Island. You should all know by now how FIght Island came together. If you don't, let me explain real quick with some simple math. First, you take the COVID-19 pandemic, which shut down the sports world as we've never seen before, including the UFC. They had to cancel 5 Fight Night events & postpone 1 PPV. You, Then you add the world's desperation for some live action, whether you agreed with it or not, which I didn't at first. Then you multiply by the crazy determination of UFC President Dana White. Ipso facto & poof, outcomes Fight Island in Abu Dhabi. With this big of a deal put on the debut of the UFC's own Fight Island, you need some big fights to headline. Petr Yan vs Jose Aldo for the vacant Bantamweight title? Of course. The Volkanovski/Holloway rematch? Let's go! Welterweight kingpin Kamaru Usman vs his own ATT teammate Gilbert Burns? Thank you sweet baby Jesus! Everything was set until COVID-19 reared its ugly head again & knocked Burns out of his title shot. But on less than a week's notice, in steps Jorge Masvidal to save the day w/ the hype of "Street Jesus" at an all-time high. Even with this much hype though, it was a lackluster fight. We mostly saw the champ Usman control a tired challenger in Masvidal. It was to nobody's surprise that Masvidal was quick to point out that the outcome would've been different had he'd gone through a full fight camp. Thus began his campaign for the rematch to resurrect "Street Jesus", and here we are now! As a bonus, this will be the first full capacity event since the start of the pandemic. As much as I still loved watching fights being able to hear everything, the fans present play a big part in an amazing UFC event, which this is certainly shaping up to be. April itself is most certainly looking to be an amazing month & hopefully, I've helped make your Saturday nights a little bit better. See you next month 😉😉