Every Starting NFL QB's NBA Comparison (8-3-22)
By: Tyrone Montgomery Jr.
Headline Photo Courtesy: People Magazine
The NBA and the NFL has been by far from my observations, the best sports on the planet. I know the MLB salaries are on a different level. I also know how intense the NHL Playoffs off as they compete to make their run to the Stanley Cup Finals. But the NFL's Super Bowl is a party of it's own and the NBA Offseason when it comes to free agency and trades are the best events in all sports and that is nothing but the truth there. Here is every comparison of Starting NFL QB's compared to NBA Allstar…
Arizona Cardinals (Kyler Murray) – Jayson Tatum
Young and talented. The tape is still out on them both. But they are both young in their careers and have very bright futures ahead of them.
2. Atlanta Falcons (Marcus Mariota) – John Wall
A NFL Veteran is what Mariota is. Likewise, John Wall is a veteran too. They both ate getting a shot at being key reasons for success again this upcoming year.
3. Baltimore Ravens (Lamar Jackson) – Luka Doncic
Some of the best in both of their respected divisions. Discipline and more studying of the game is needed for them both. We think they're great now? The sky is definitely the limit.
4. Buffalo Bills (Josh Allen) – Nikola Jokic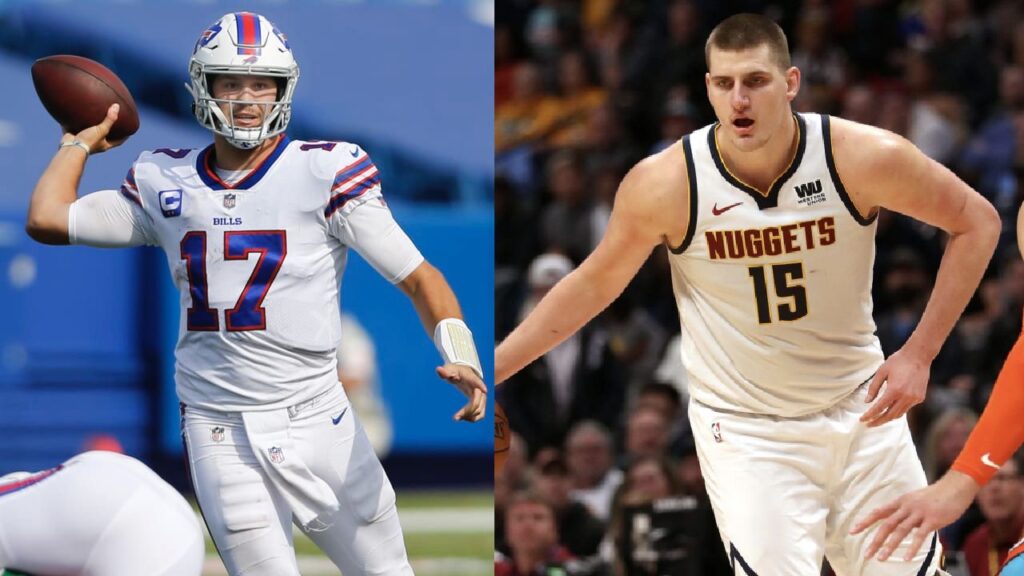 Although Josh Allen is yet to win any MVP Awards, his time will come in due time. Like The Joker in Denver, that Bills team is built to cater to Allen's needs. Their respected teams brings out the best in them. Quietly kept said, Josh Allen literally does it all!
5. Carolina Panthers (Baker Mayfield) – Donavan Mitchell
Baker Mayfield has finally been traded from the Browns. Donavan Mitchell is on his way out of Utah any minute now. While both of these players are talented, they aren't "Franchise" players and can't be depended on to be "The Guy" wherever they go.
6. Chicago Bears (Justin Fields) – Shai Gilgeous-Alexander
When you look at both of these players situations, their team's haven't done enough to put them in a situation to succeed. Both teams are in a rebuild phase and still have a lot of work to do.
7. Cincinnati Bengals (Joe Burrow) – Joel Embiid
When you think of talent and most skilled, Joe Burrow and Joel Embiid both come to mind in their sports. The only thing that stands in their way is health.
8. Cleveland Browns (DeShaun Watson) – Devin Booker
DeShaun before he started missing football games was on a tear! He has been giving NFL defenses a scare. Devin Booker has been as well. They are at the prime of their careers.
9. Dallas Cowboys (Dak Prescott) – Paul George
Dak is one of the most skilled and athletic players in the league. He, like PG13, has ALL the tools to be a champion and even be the best player in their leagues. They both have been able to put up MVP like numbers too. Sadly, they both have failed to win anything throughout their careers too.
10. Denver Broncos (Russell Wilson) – Kawhi Leonard
Mr. Wilson has been one of the quietest guys in the league. He quietly plays hard every game, puts up 110%, and wins. He isn't the biggest or strongest player on the field, and neither is Kawhi. They both aren't even the best players at their sports, but they both are guys any GM would love to have on their roster.
11. Detroit Lions (Jared Goff) – Kristops Porzingis
Like The Unicorn, Goff may have peaked a bit early. In fact, the both are still young, and it's safe to say that their best years may be behind them already.
12. Green Bay Packers (Aaron Rodgers) – James Harden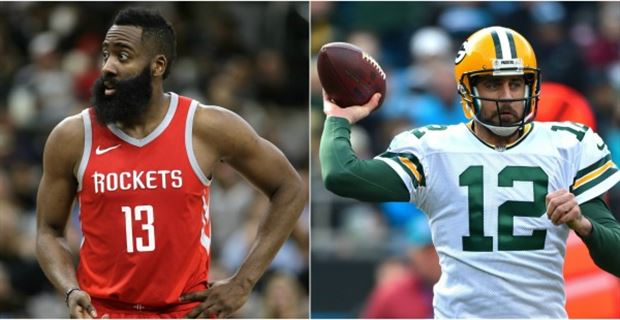 A-Rod has been considered one of the best QB's throughout his entire career like Harden. He is a walking TD like Harden once was a walking bucket. They both are former MVP's. And while in their primes, everyone wanted them on their team.
13. Houston Texans (Davis Mills) – Josh Giddey
Davis Mills had a pretty fair rookie campaign, especially after considering the circumstances. Like Giddey, both rookies, they are both going through a rocky rebuild. Both were solid in the start of their careers.
14. Indianapolis Colts (Matt Ryan) – Mike Conley
Like Mike Conley, his best days are behind him. Even so, both Conley and Matt Ryan are still solid and productive players. While they no longer can lead a team on their own, if they're in the right situation, they will experience success.
15. Jacksonville Jaguars (Trevor Lawrence) – Zion Williamson
So much potential for both of these young athletes. It's only a matter of time before that potential becomes a reality for them both.
16. Kansas City Chiefs (Patrick Mahomes) – Steph Curry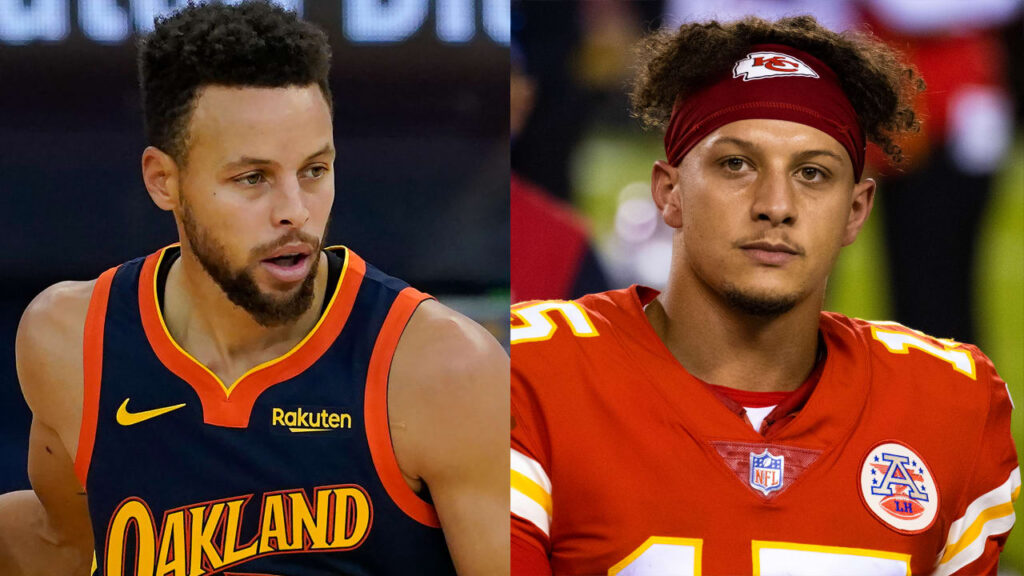 The flash, the thrill, the success, the fear they put in their opponent's hearts… top that with great coaching, a fantastic organization, and a great team around them. Curry and Mahomes are on the same path.
17. Las Vegas Raiders (Derek Carr) – Draymond Green
Derek Carr may not have the most TD's in a season. He may not have the least amount of turnovers either. Derek Carr may not even be the best player on his team. Just like Draymond Green, he very well is the most important player on his team and is extremely productive. He simply makes the right plays.
18. LA Rams (Matthew Stafford) – Kevin Durant
Matt Stafford has ALWAYS been one of the top tier QB's in the league. I remember playing years and years of fantasy where he was always picked early. As good as he's been, he hasn't been known as a leader. Not to mention, Stafford hasn't won a Superbowl until he joined a Superteam, like Kevin Durant.
19. LA Chargers (Justin Herbert) – Damian Lillard
Herbert is as explosive and deadly as it can get. Lillard has been compared to Curry. The way he can score and shoot from literally anywhere on the floor. Herbert has some Mahomes comparisons and he is only getting started.
20. Miami Dolphins (Tua Tagovailoa) – Trae Young
Tua has experienced a ton of criticism already in his young NFL Career. Despite it all, he still is the man behind center and is a pretty accurate thrower of the football. More talent has been added around him like Trae Young and this should accelerate his growth.
21. Minnesota Vikings (Kirk Cousins) – Russell Westbrook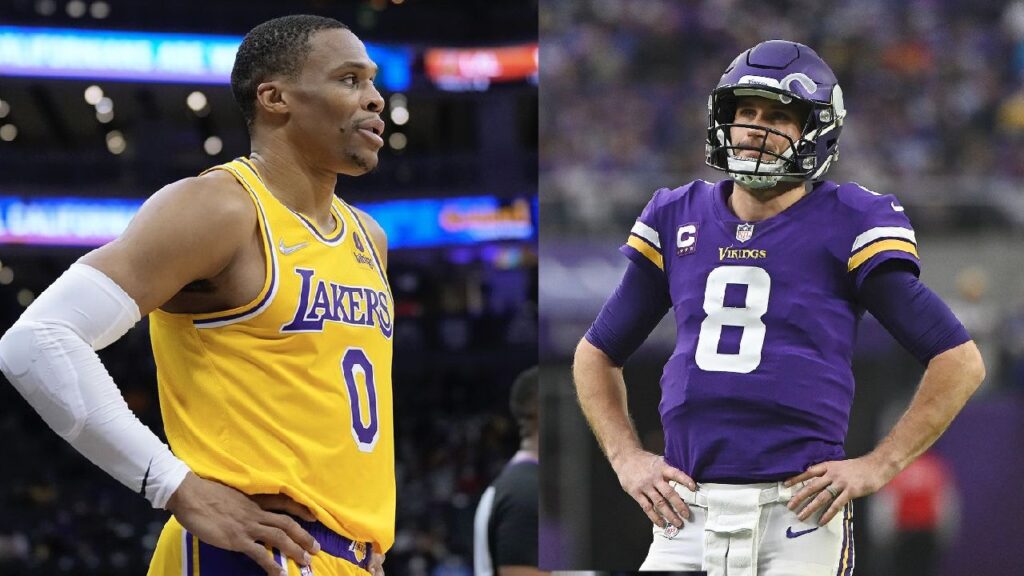 Many people bash Kirk Cousins. He puts up pretty good numbers, but like Russell Westbrook, the numbers simply never amount to winning.
22. New England Patriots (Mac Jones) – Jimmy Butler
Mac Jones is only going into his second season in the NFL and he already looks like the real deal. He works hard and plays even harder like Jimmy Butler. He's a grinder like Butler. While it won't always be pretty, he finds ways to win, just like Jimmy Butler.
23. New Orleans Saints (Jameis Winston) – Pascal Siakim
Jameis has been a bit of the MIA side lately due to injury. But when healthy, he has a lot of good moments, like Pascal Siakim. The talent is there, the only thing that's missing is the consistency.
24. New York Giants (Daniel Jones) – Bam Adebayo
The potential is there for both of these individuals. Daniel Jones came into the league so hot, we started calling him Danny Dimes. Bam's numbers have been better earlier in his career just like Jones. At this point, it may be these players getting in their own way because they're definitely more than capable of being the player we seen early in their careers.
25. New York Jets (Zach Wilson) – Tyler Herro
Zach Wilson has the confidence of Herro. He always has the swagger of him too. These 2 players are young and explosive and can light you up especially when you're not 100% focused.
26. Philadelphia Eagles (Jalen Hurts) – Kyle Kuzma
The verdict is still out on Jalen Hurts. After his first full year of being a starter, he's had some spectacular moments. On the flip side, he's also had some moments where he has hurt the team, no pun intended. Like Kuzma, Hurts is still learning the game and growing into being a key piece on the team while they both are now full time starters.
27. Pittsburgh Steelers (Mitch Trubisky) – Nikola Vucevic
Mitch suffered through a lot being in Chicago. Vucevic however, was able to overcome his challenges in Orlando. With that being said, Vuc has been a more efficient player in Chicago. We can expect the same thing from Mitch in Pittsburgh playing with an offense with a ton of weapons.
28. San Francisco 49ers (Trey Lance) – Ben Simmons
All of the reports out of San Fran thus far has been Trey Lance isn't ready and is still learning. Despite it all, he is still a productive player according to the tape last season. He will be just fine.
29. Seattle Seahawks (Drew Lock) – Rudy Gobert
Drew Lock isn't the flashiest or most glamorous QB in the league. But he is still productive like Gobert and still has a starting role in the league. Who knows, Drew Lock could be the QB the Seahawks are looking for.
30. Tampa Bay Buccaneers (Tom Brady) – LeBron James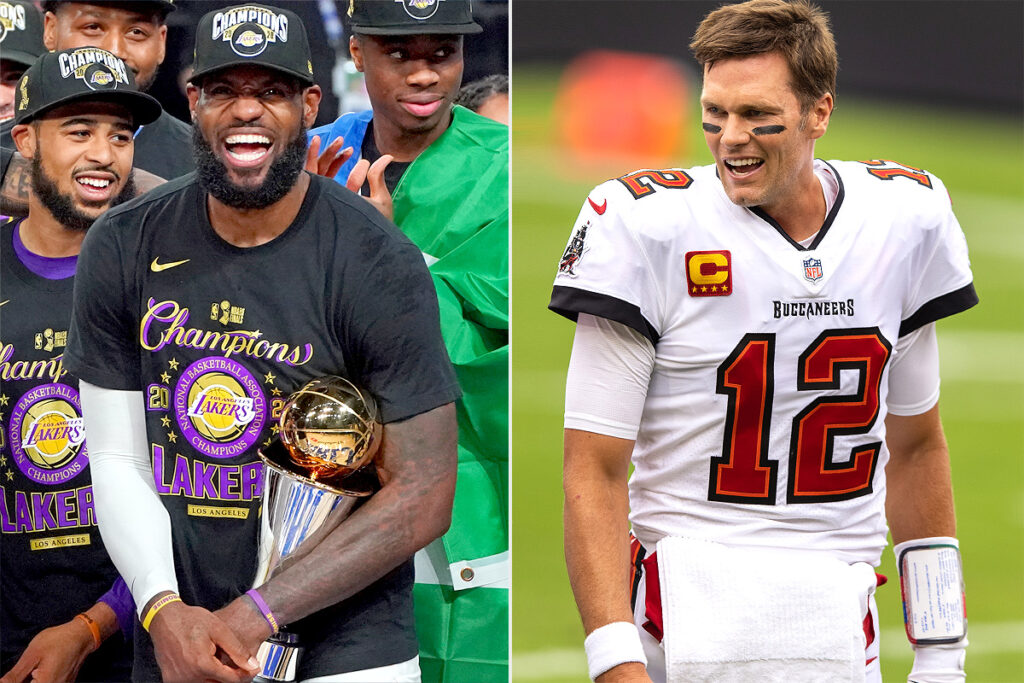 This one was an easy one. All the titles, all the MVP awards, all the allstar/pro bowl votes, GOAT conversations. From one goat to the next, both Lebron and Brady have literally dominated throughout their careers.
31. Tennessee Titans (Ryan Tannehill) – DeMar Derozan
Tannehill over the years has turned into quite the QB in Tennessee. If you look at his numbers, you would say why hasn't he been in MVP talks? You will say the same thing after looking at DeMar Derozan's numbers, especially after how well he performed last season.
32 Washington Commanders (Carson Wentz) – Anthony Davis
Now I am by no means saying Wentz is as gifted as Anthony Davis is and has been. But I am saying this: If fully healthy, Wentz has the potential to be what Anthony Davis was in the NBA Bubble the year they won the NBA Finals vs. the Miami Heat. Ironically, Wentz went down ever since the year the Eagles won the Superbowl.