Juan Soto, Josh Bell acquisitions make the Padres exponentially better (8-6-22)
By: Jonathan Mathis
Headline Photo Courtesy: NY Post
The big-name outfielder the Padres got Tuesday, Juan Soto is 23 years old. The hot commodity they snatched off the market is an established star who is ahead of his time and still not yet in his prime. Just before the All-Star break, Soto rejected a 15-year, $440 million offer from the Washington Nationals. And because he, in an instant, became the center of the MLB universe, everybody was curious about whether Soto would get moved before the trade deadline.
This is exactly the news everybody has been waiting for. And, at last, it has finally happened. To nobody's surprise, the Padres have become baseball's most interesting team, stacked and loaded with premier talent, and seemingly pushed themselves to the top tier. Long infatuated with Soto, AJ Preller went all into land one of the best young stars in baseball and the prize of this year's trade deadline. The club's general manager has mastered how to make things happen and attract success, in hopes that the club can make a deep run into October and pursue a World Series title.
You will rarely find a generational hitter, somebody as good as Soto on the trade market. There has never been a midseason trade this monumental. There's never been anything like this. It's a historic day in San Diego as the Padres made the wunderkind outfielder the latest blockbuster addition, along with first baseman Josh Bell in exchange for a handful of prospects.
The price for Soto, a two-time All-Star, wasn't cheap. And, yes, absolutely, the Padres, of course, pulled off the greatest trade acquisition in baseball history. They were equipped with high-ceiling prospects who the Nationals were asking for. They had a bevy of interesting pieces that the Nats were looking for. The deal for Soto and Bell cost the Padres a top-100 prospect and three current top-100 players. The package involved left-handed pitcher MacKenzie Gore, outfielder Robert Hassell III, shortstop C.J. Abrams, outfielder James Wood and right-handed pitcher Jarlin Susana. Washington also received veteran first baseman, Luke Voit.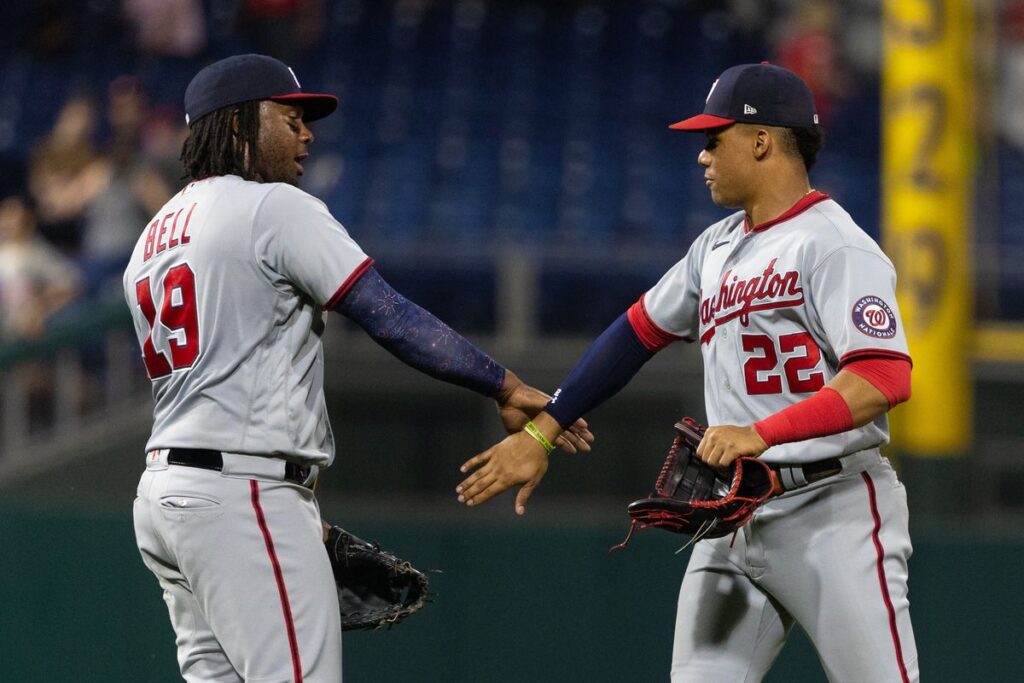 Preller played his cards well, taking a more aggressive approach to the Padres' willingness to win and desire to succeed. It's fair to say that he failed to disappoint ahead of this year's deadline by meeting the Nationals asking price. The idea that the Padres pushed all their chips into the middle of the table and emptied their pockets at the deadline should come as no surprise when Preller, in his eagerness to win now, offered a prospect-heavy package that enticed Washington GM, Mike Rizzo.
And now the most coveted player on the market has become, fittingly, a Padre. This is a Padres team built for a long playoff run, with the Soto acquisition. In the splashiest move in club history, here's guessing the Padres will make a strong playoff push and pose the greatest threat to the Dodgers in the postseason. It's now crazy to think that the star outfielder is heading to San Diego, where he will team up with Manny Machado and Fernando Tatis Jr. The lineup is now scary from top to bottom with Machado, Tatis, and Soto atop the lineup. Three of the best hitters in the game. It puts their season in a different light since Preller went shopping for a pair of big bats to give the Padres a chance to contend for the pennant. That should be a recognizable goal because this team now has the major league pieces to maybe not catch the Dodgers for first place in the NL West but at least make it challenging for them.
Right now, the Padres sit a dozen games behind the Dodgers, three games up on a wild-card spot. They're now a team that can benefit from a new postseason format that will feature a third Wild Card team. And who knows what could happen if the Padres and Dodgers somehow meet in the divisional or championship series? Or what if they play a winner-take-all game?
The Padres can win games. They should win games. They now dare to dream, as they have a high-powered offense anchored by some of the most dangerous hitters in the league and can now counter with the Dodgers' potent lineup that features Mookie Betts, Trea Turner, and Freddie Freeman. After a flurry of trades, the Padres are suddenly a force to be reckoned with in October. Now they have added a five-tool outfielder who makes these Padres exponentially better. This was a massive, incredible, insane win for the Padres, a vehicle to elevate San Diego into the echelon of teams that can contend for the title.
Soto wanted out of Washington, he wanted to go someplace where he can win, and where he wouldn't be part of a rebuild, not exactly knowing what the future would look like with the Nationals years from now. He hasn't put up All-Star numbers this season and was finally traded to a team that is thrilled to welcome him on board as San Diego hopes to chase championship ambitions. He hasn't performed up to his standards with a .243 average and bad offense production.
But he brings a league-high 91 walks and a .408 on-base percentage. The point is the struggling outfielder, even during a substandard year, is getting good quality at-bats. The optimistic take is that Soto will bolster the Padres' lineup depth because of his ability to hit the ball when his mechanics come together to compensate for physical limitations. On a positive note, he's selective in terms of not chasing pitches out of the zone and has an uncanny eye at the plate in which he can get the count in his favor during his at-bats.
For a player who seems to be struggling some — and, understandably so, was frustrated with his current situation in Washington where he won a World Series ring, Soto can hopefully get his groove back with a change of scenery. For someone who won most of his career, losing games was a tough adjustment. Soto's former club was planning to make him the linchpin in the Nationals' rebuild but he turned down huge bags of cash.
The Padres were able to substantially improve their team by selling the farm and landed a generational talent doing things that have rarely been done. The Dodgers tend to land the players they want. But this summer, their neighbors in San Diego outbid them by getting Soto. This summer, the Padres opened their fat wallets, their arms to a young Soto, days after closing in on a $100 million handshake with hometown arm Joe Musgrove and after shockingly acquiring elite closer Josh Hader from Milwaukee.
The championship window, that is, is open for the Padres, with Soto being under club control for three pennant races. For sure, their fortunes changed completely, with the splashy Soto acquisition. A player like Soto simply doesn't come around often. Rarely does a historically talented hitter often compared to Ted Williams, the legendary Red Sox, suddenly becomes available days before the trade deadline.
Ideally, Soto's presence in San Diego is indeed noteworthy. The playoff push starts now.