Defenders Defense Comes Up Big Against St. Louis To Remain Undefeated (3-5-23)
By: Darrell Owens 
Headline Photo Credit: Darrell Owens-LMS Network
WASHINGTON DC-The third week of the 2023 XFL finished up this past week. The first game of the week was last Thursday. The Seattle Sea Dragons defeated Las Vegas Vipers 30-26 to grab their first win of the year. The Arlington Renegades took down the Orlando Guardians 10-9 at home. The Houston Roughnecks defeated the San Antonio Brahmas 22-13 to stay undefeated. Lastly, the DC Defenders took on the St. Louis Battlehawks in Washington DC in the Battle of the Undefeated.
Early in the First Quarter, DC would strike first on a 7-yard touchdown pass from Jordan Ta'amu to Tight End Ethan Wolf. The Ta'amu finds with Wolf on a shovel pass for a 2-point conversion and the Defenders were up 8-0. On the Battlehawks' next possession, QB AJ McCarron would throw a pick-six to Defenders DB Mike Joseph, his 2nd of the season. Giving the Defenders an early 14-0 lead. The Battlehawks would bounce back with an impressive drive that would be capped off with an 8-yard touchdown pass from McCarron to RB Brian Hill making it a 14-8 after a Darius Shepherd 2-point conversion. With 18 seconds left in the half, the Battlehawks would tie this game up with a Hakeem Butler 1-yard touchdown reception and would go into halftime with a 14-14 score.
After an early second-half Matthew McCrane field goal, DC would take a 17-14 lead in the 3rd quarter. On the next St. Louis possession, McCarron would find his tight end, Jake Sutherland on a 23-yard touchdown pass giving the Battlehawks the lead for the first time 20-17. With 3:08 left in the 3rd quarter, DC would reclaim the lead 25-20 on a 12-play, 82-yard drive finished off by QB Jordan Ta'amu with a 2-yard touchdown run and a Lucky Jackson 2-point conversion catch from Ta'amu.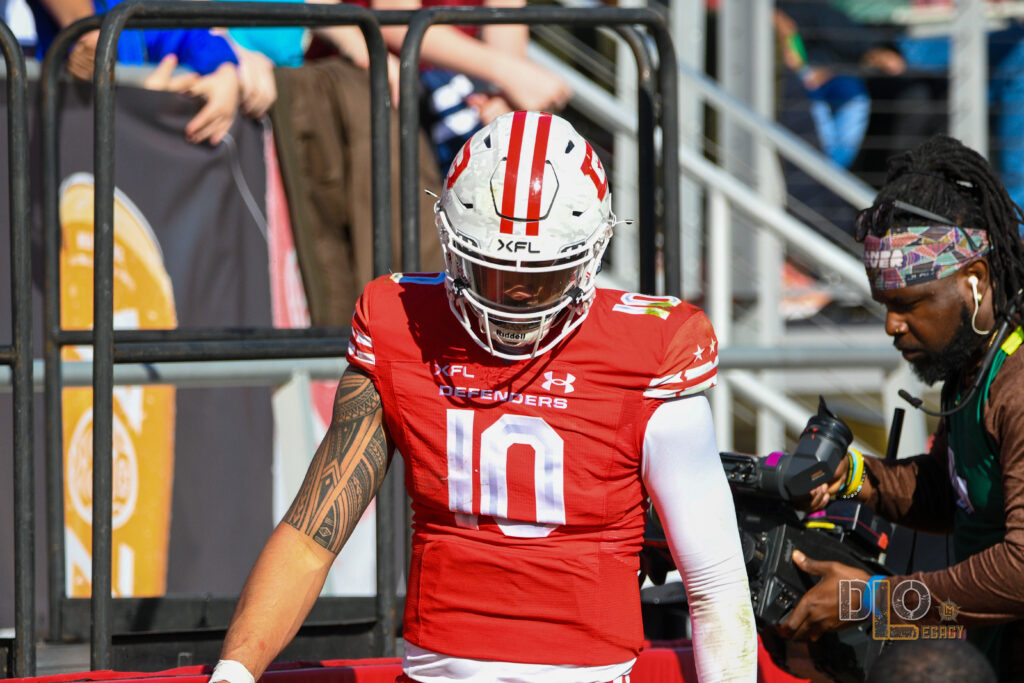 After another McCrane field goal, DC extended their lead 28-20 early in the 4th quarter, but the Defenders would put this game away on a 4-yard D'Eriq King passes to Chris Blair for a touchdown and a 34-20 lead. Despite a late score from the Battlehawks with 22 seconds left in the game, the DC Defenders would win this one 34-28 to remain undefeated. The Defenders defense had four takeaways that push DC to victory.
The DC Defenders will be at home to take on the winless Las Vegas Vipers (0-3) on Sunday, March 12th at 7 pm from Audi Field.