#25 Virginia Passes first big test of the year with 31-24 victory over Florida State (9-14-19)
By: Russ Taliaferro
Headline Photo Credit: Darrell Owens-LMS Network
Saturday, September 14. By all accounts, it was a regular day in Charlottesville, VA. A regular day to everybody except the 57,826 fans that packed the sold out Scott Stadium on the UVA campus to watch the #25 Cavaliers host their first big test of the season, Florida State. To them, this was clear-your-schedule kind of day for Wahoo Nation, especially since they were honoring the National Championship basketball team. As it was only the 3rd time they've hosted a game in Scott Stadium as a ranked team since the departure of Al Groh (2010-present; second under Bronco Mendenhall), The Cavs had to show up & show out, & that they did!!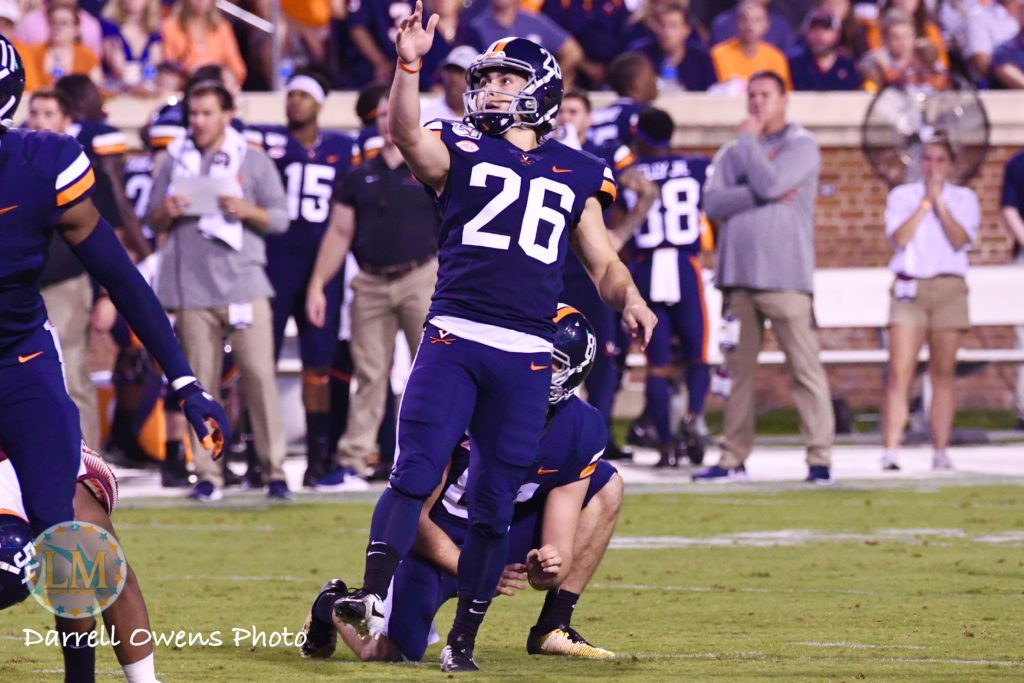 They came a little slow thought, to say the least. While they only punted 3 times out of their 7 first half possessions, they only came away with points on 2 of those 7 drives. They got the ball first & seemed to show off a little bit of their big offensive weapons. ​Taulapapa was back after missing the week before, ​Joe Reed had a nice 12-yd catch, & even Perkins showed off his legs with a 10-yd run that got the crowd excited. It all came to an abrupt end though, as Perkins was picked off by Asante Samuel Jr in the red zone. Each defense held steady as punts would be exchanged on the next 3 drives, but then Brian Delaney delivered the first score of the game for the Cavs as he made a 49yd field goal. FSU would get the first touchdown on their first drive of the 2nd quarter, but UVA would immediately answer back to keep it close at 10-7. FSU would score again with 38 seconds left in the half, which UVA would try to use to score again themselves, but a last second deep pass would result in Perkins' second interception of the half. UVA would go into the half down 14-10. Even though they were down at half, they didn't seem too rattled by FSU's hurry up offense. Going into the second half trailing, coach Mendenhall acknowledged post game the adjustments they needed to make, saying they recognized what the FSU was giving them as far as what opportunities they could take.

UVA went 2 for 7 on getting points on 1st half drives. In the second half, they went 3 for 4, with all 3 scores being touchdowns & Bryce Perkins made his presence known to the Scott Stadium crowd. He looked like a different person, completely focused on the task at hand, which was to beat Florida State. In the 1st half, went 13 for 21 for 138-yds & 2 INT's. In the 2nd half, he went 17 -for-19 157-yds 1 TD, including completing his first 14 attempts. UVA still punted on their first possession & then allowed a FG to give FSU a 17-10 lead in the middle of the 3rd, but Perkins came right back to go 9 for 9 on their first scoring drive of the half to tie the game up at 17. The teams would trade TD's on the next 2 drives, but a missed extra point by Delaney would give FSU a 24-23 lead. The defense would bail him out though on the next drive, as they'd force a 3 & out by Florida State to give them the ball back with just under 5 minutes left in the game.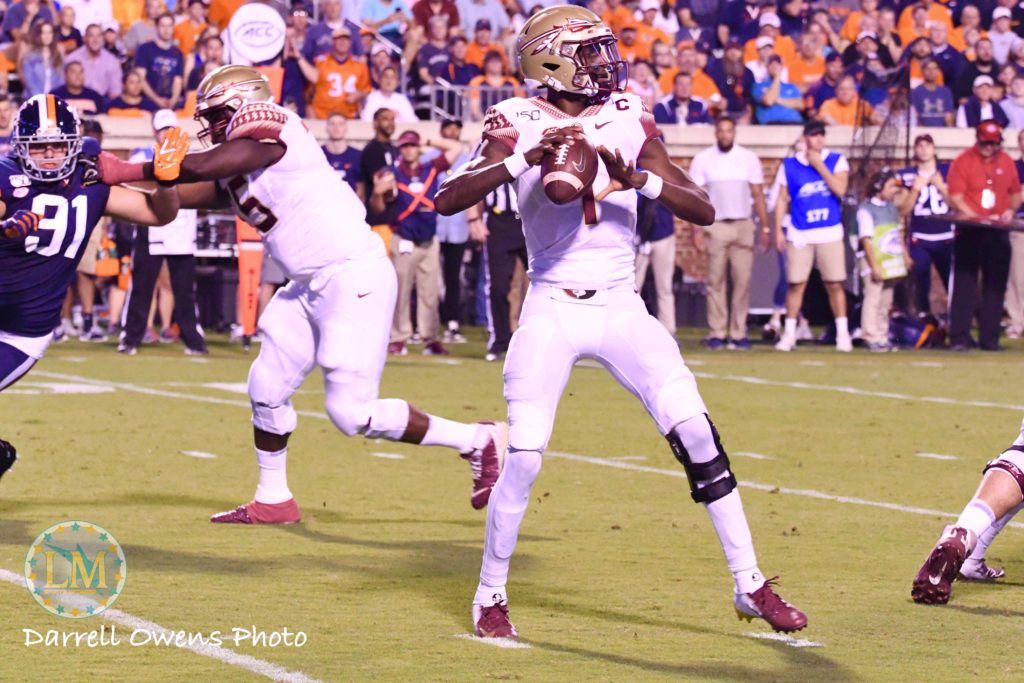 By this time FSU's hurry up was working against them, as the quick drives on offense were tiring out their own defense & If this game was a slugfest, then UVA came out on the first play of the drive with a wild haymaker that staggered FSU; A Joe Reed run up the middle for 22 yards to bring the ball to midfield, First Down! 2 plays later, a 35 yard pass to ​Hasise Dubois, First Down! FSU thought they had caught a break on the next play, but a personal foul on Renardo Green would give up another first down. Wayne Taulapapa would take the rest of the way 2 plays later for his 3rd touchdown of the game. You could tell they missed him last week, especially in short yardage situations as all of his 3 touchdowns were no longer than 3 yards long.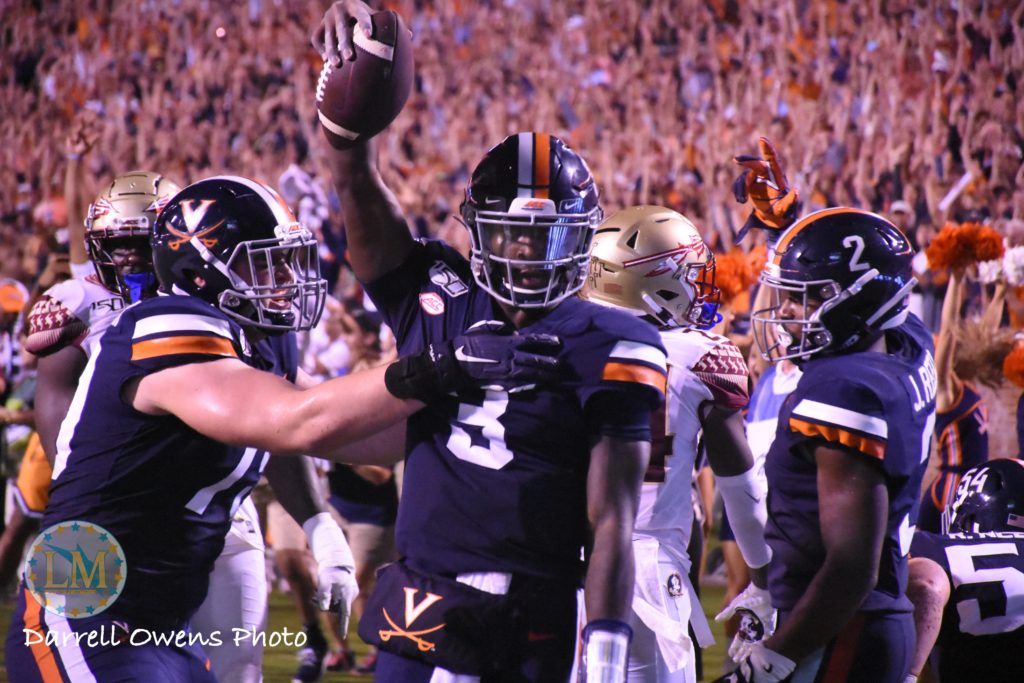 To put the cherry on top, Perkins would show off another weapon of his, his escape ability, & quite literally dance his way in for the 2 point conversion after evading the FSU D-Line pressure & bringing Wahoo Nation to their feet! UVA is now up 31-24, but with 2:34 left on the clock & 2 timeouts left, FSU was by no means dead in the water. In what was their 2nd longest drive of the game in terms of time, FSU would bring the ball all the way down to the UVA 4-yd line with 4 seconds left. They had a little bit of help along the drive, as coach Mendenhall himself would say later that "it felt like we won the game 3 different times, but then we didn't." What he was referring to was the 3 penalties that were called on UVA, including an unsportsmanlike conduct call against coach Mendenhall himself, that extended the drive for FSU. In the end though, his Cavaliers were able to hold on as Bryce Hall, who called for a penalty as well on the drive, made the final tackle on Cam Akers to stop FSU's comeback effort short on the 4-yd line. The clock strikes zero & the students rush the field.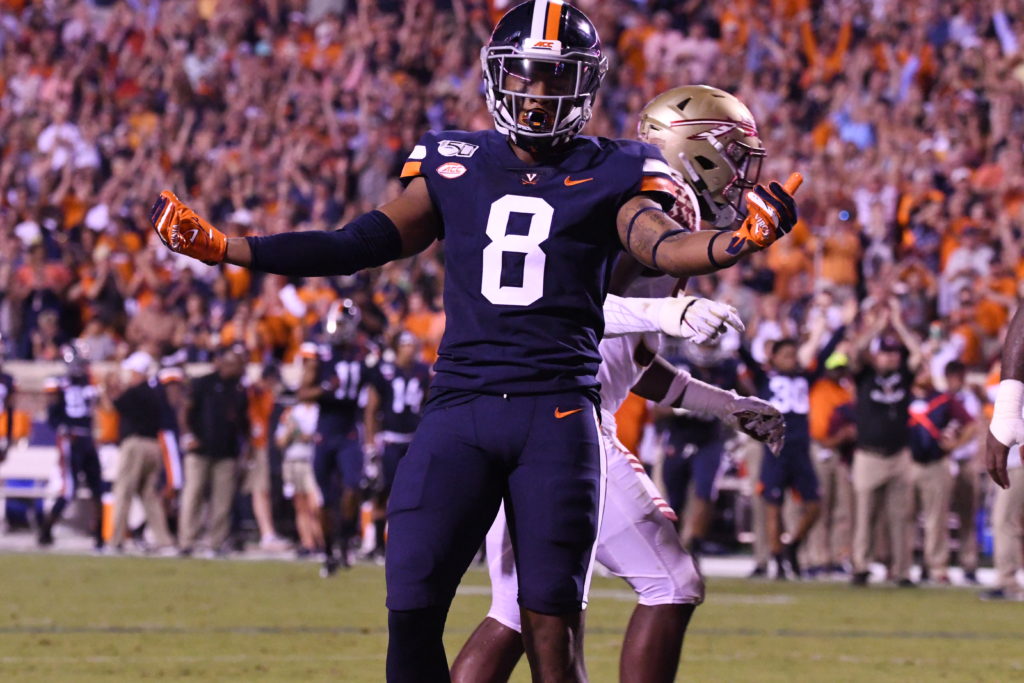 UVA passed their first big test of the season in what turned out to be a thriller of a game. Any game against Florida State for them is going to be a tough one, even if they aren't ranked. With this win, UVA is now 4-14 all-time against the Seminoles. Such history isn't too bad for them in their next big matchup against #7 Notre Dame. While they have lost to the FIghting Irish twice before, those have been the only games the 2 schools have ever played against each other (1989 & 2015), but they can't think too far ahead as they host in-state rival Old Dominion this Saturday. I wouldn't say they should be on upset alert, but they shouldn't take the Monarchs litely. As they enjoy their first 3-0 start since 2005 under Al Groh, UVA would love to keep their hot streak going. Since they already have started with a bit of the same success that Groh had that year, I think coach Mendenhall would be pretty happy if they kept it going, especially if they beat Tech