Tyler Reddick Wins His First Race of the Season, Takes Checkered Flag at The COTA (3-26-23)

By: Becca Cottingham Quimby
Headline Photo Credit: USA Today
We are in Texas for Circuits of America. We just hardly get through lap one without there being a connection between multiple drivers. Ty Dillon, Jimmie Johnson, Brad Keselowski, and several other drivers were involved. Ty Dillon has something leaking from his car and he will be out of the race. When we get back to green we see the front row run in deep and this allowed the drivers in lane two to get around. We see a lot of break smoke where drivers are locking up breaks to make corners. Joey Logano gets a pass-through penalty for shortcutting the track esses on the track. Two additional drivers will get nabbed for the same issue. Bubba Wallace got into the back of Kyle Larson hard and then Kyle Larson gets turned again trying to get to pit road. Bubba Wallace appears to have had an oil line break that caused a break failure. This will lead us down to where a normal stage break would be for clean-up to be completed. Multiple drivers do use the caution flag as an opportunity to get tires and fuel. While others do stay out sticking with the initial strategy the teams put together. William Byron will be credited with the stage one points.

We continue with the racing in what would normally be stage two. William Byron will lead a portion of this stage. Tyler Reddick will get around William Byron. The way pit strategy plays out will be big for this stage. As Tyler Reddick did pit early in stage one so he will need at least two more stops. While some teams are on more of a two-stop strategy. Corey Lajoie gets black-flagged because his rear diffuser was dragging. We see more bumping with Kyle Larson. Tyler Reddick will hold a nine-second lead over everyone and will get the stage two win.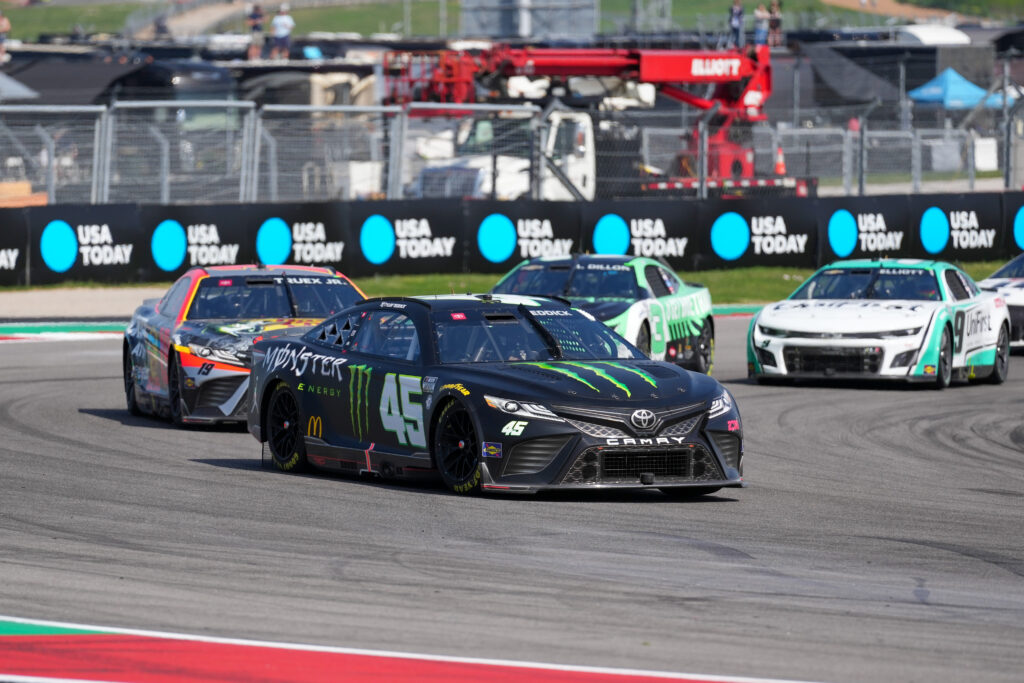 Stage three will see multiple penalties right out of the front gate. Ty Gibbs and Kyle Larson both had issues. Ty Gibbs with shortcutting the esses and Kyle Larson speeding on pit road. Ty Gibbs will get hit with another penalty for shortcutting the esses. While William Byron continues to lead, Tyler Reddick is passing drivers on the track to make his way back to the lead. He will grab the lead in one of the left-hand turns where William gets a little too wide and Tyler Reddick was able to stay lower. Tyler Reddick was able to drive away again to roughly a five-second lead. Until NASCAR calls a caution due to the amount of dirt kicked up onto the track in turn nine. It had just caused Denny Hamlin to spin out even though he was able to get restarted. Tyler Reddick can take advantage in the breaking zone. Both Tyler Reddick and William Byron go to battle respectively. Tyler Reddick will eventually get around William Byron cleanly. Ryan Preece got caught shortcutting the esses and then serving his penalty caught speeding on pit road. So he has a second penalty he must serve. Both Tyler Reddick and William Byron's teams are showing that they are showing short on fuel by at least a lap or two. Brad Keselowski ends up in the middle of the grass area of the track and brings out the caution with roughly twelve laps to go. This can change so much with the ending of the race. We get back under green and turn one causing havoc once again. Ross Chastain was not able to his car going again so another caution comes out so another restart will happen. We get back to green and once again William Byron and Tyler Reddick are back battling. Tyler Reddick, we will eventually get around William Byron once again. However, we get a late caution due to a tire blowing on Austin Dillon's car. The caution going back into green caused another caution as everyone was behind the fourth row. This caused a lot of drivers to spin out in turn one and tires to shred. This will send us into a second overtime. We finally get restarted again and Tyler Reddick and Kyle Busch go to battle. They were side by side and Tyler Reddick and Tyler Reddick finally clears Kyle Busch. Then a tire comes off Daniel Suarez and that puts us back under caution for a third overtime. They will get back to racing for what we hope is the last overtime attempt. If they can get through the first lap of overtime then this will end overtime. We still have a huge issue with another accident but it appears that the debris was able to clear off the track with the wind. Tyler Reddick gets the lead and will hold on to get the unofficial win.