Chris Buescher wins Back-To-Back Races, Wins at Richmond and Michigan (8-6-23)
By: Becca Cottingham Quimby
Headline Photo Courtesy: Associated Press
After a big win in Richmond last weekend Chris Buescher was looking to go back-to-back. So we head north from a short track to a two-mile track at Michigan International Speedway. They moved the start trying to avoid the rain, but that did not work. They got the cars fired and pace laps ran but NASCAR pulled them down pit road. It looked like it was going to be just for a short visit but a decent shower came through the track area. They will restart the race and Christopher Bell and Ross Chastain will bring us to green. Ross Chastain will take the lead almost immediately. We will get our first caution which will end up being the competition caution when something happens when Kyle Busch is racing side by side with Ryan Blaney. This will send Kyle Busch into the wall and end his day early at Michigan. We get back to racing and some teams are taking a risk by not utilizing the caution for fuel or tires. Denny Hamlin and Kyle Larson still have some unfinished business. Drivers go three wide trying to make moves throughout the entire field. Chase Elliot then has a rear tire go and his rear hits the wall hard. He ends up taking his car straight to the garage after catching his breath. There is not much he truly could have done. William Byron on the last lap got loose and also hit the wall while Martin Truex Jr went on to win stage one.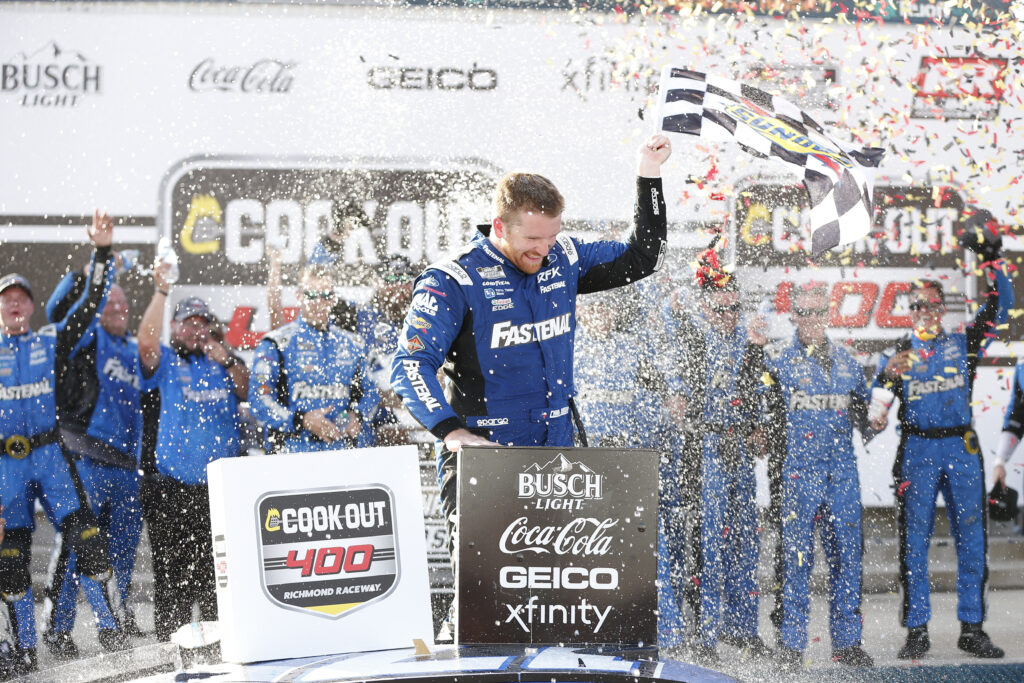 We hardly get back racing in stage two and the damage vehicle policy runs out on William Byron and Josh Berry wrecks. Drivers getting back underway and go four wide attempting to make moves towards the front. While Christopher Bell was going for the lead from Alex Bowman Christopher Bell makes hard contact with the wall. We hardly get back to racing and Corey LaJoie and Ryan Blaney start making contact. There is another rain cell possibly moving in so intensity may go up a notch. Tyler Reddick did overtake the lead from Alex Bowman. We will see drivers end up coming down the pit road due to the rain getting heavier. We will have a red flag officially come out and it will be called until Monday. Monday we see drizzle at the start and a change up as drivers make stops that they need to. Martin Truex Jr will eventually get to the front and take the lead. That is until we get a caution and they bring him down for fuel and tires. Denny Hamlin stalls on pit road and This stop puts them in the window for one more stop. It will have them back in the field some and moves Daniel Suarez to the lead. While Daniel is leading the field, Martin Truex Jr is moving his way back through the field with no issues. It comes down to the very last moment where he passes Daniel Suarez to win stage two.
We go back to racing in the third stage and we have an issue at the restart. Drivers get three wide and Alex Bowman ends up in the wall. He ends up having to be towed to his pit stall due to four flat tires. We get back to racing and the restart goes clean. Drivers still go three wide trying to gain the most positions possible at the restart. We seem to have a great battle going on for the lead with Christopher Buscher. Then Tyler Reddick almost losses a tire on the track. He thankfully had the tire stay on but you could hear the frustration in his voice. They got the tire changed for him and back out on the track without caution. We will continue without caution. This allows Martin Truex Jr and Christopher to fight for the lead. It truly is a battle as they both fight cleanly for who will win this race. At one point they are side drafting one another. Martin Truex Jr will surge one last time close to the end to reach Christopher. Only off by just a little and Christopher will bring home back-to-back wins.