"Re-United, And It Feels So Good" Brock Osweiler Returns Denver
By:Tyrone Montgomery Jr.
Life is all about stability. If you're unstable in life, chances are you won't be very happy and you won't be successful either. We all need a good job. Without that, you're homeless and living on the streets. We need transportation, depending on where you live in the world of course. Cities like New York and Washington DC, you can get by without it because of the usage of subways. But most of the time, you need a reliable vehicle. We have to get from point A to point B. Without reliable transportation, there's a possibility you'll lose your job, you could lose your home, you could lose everything without stability. Well The NFL is no different. You need stability. Two seasons ago, The Denver Broncos won Super Bowl 50 against MVP Cam Newton and The Carolina Panthers. Cam Newton by far had his best season as a pro, passing for 3,837 yards along with a career best 35 touchdowns and only 10 Interceptions. Good  quarterback play is what delivered The Carolina Panthers to the Super Bowl.
The Denver Broncos have a very solid and stable front office, as well as, a good coaching staff. The Broncos defense is normally one of the best in the league. Over the last decade, The Denver Broncos have started 7 total different QB's. This list of QB's includes Jay Cutler, Tim Tebow, Kyle Orton, and Chris Simms, all QB's who are backup worthy material. In 2012, A Hall of Fame talented QB came to play for them. His name. Peyton Manning. Manning is arguably the best to ever play the position and had already won a Super Bowl with The Colts.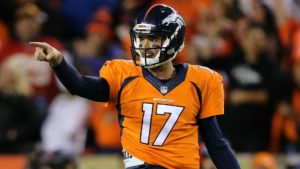 In 2011, Indianapolis decided to cut ties with Manning as they saw he was aging and had several injuries. Denver knew that, but despite the injuries, Manning proved to be better than all the other QB's they have had over the years and they signed him anyway. Well in 2015, Manning suffered even more injuries, and he missed several weeks due to them. In relief, Brock Osweiler took his place and he played extremely well for them. However, once Manning was fully healed, he took back the starting role and lead them to a Super Bowl Victory. This would not had been possible without reliable QB Play. Manning retired that offseason.
At that same time, Brock Osweiler was a free agent, and decided to sign with The Houston Texans. Denver didn't want to pay him, so he cashed out a 4 year deal worth $72 Million. Denver then had to turn to Trevor Siemian, who hasn't had much experience, and also drafted a QB in last year's NFL Draft, Paxton Lynch. The 2 new additions proved to be unworthy as The Broncos struggled throughout the year and finished 9-7 missing the playoffs. Brock Osweiler also struggled with his new Team in Houston, getting benched for Tom Savage late in the season. Osweiler was then traded to The Cleveland Browns in March 2017, another team with unstable QB play. Six months later, Cleveland cuts ties with Osweiler, failing to appear in any regular season games for The Browns.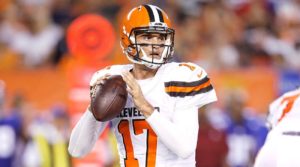 So Denver, still shaky at QB, has decided to resign him. This just may actually work for both parties, especially because he's had success there his first time around. Its unsure if he will start in week 1 for them, but I won't be surprised if he eventually regains that starting job and leads The Broncos back to the playoffs.