Quick Opinion: Next Joe Thomas?
By:Robb Johnson
Is winning, along with championships and having the chance to raise a banner every year really that important? I ask this because people think that loyalty and sports is a lost art. Well guys like Joe Thomas, who just retired from the Cleveland and a certain Angel in the outfield Mike Trout remained loyal.
This is great right? No its not, loyalty in sports from my standpoint is feeling comfortable because you care more about your future Hall of Fame speeches and the money your making. It's nothing wrong with money, but when certain guys get the label of loving the game, I just have to laugh until my heart almost stops.
Heart stopping performances is what Alex Ovechkin provided for Capitals fans until they finally won the Stanley Cup. However, you may ask why is it that Ovechkin gets a pass from me when he stayed in Washington?
The Capitals actually made the playoffs consistently and gave their fans excitement rather than seasonal hardware.
The regular season in any sport is like the winter time at a timeshare with barely any reservations. You must do enough to get the best out yourself to make money made, you have to practice more and hone your craft.
Now when the weather gets warm, the ones who survived the regular season get the pressure turned up when the big money is on the line. When it's time to get a marketer or salesperson of the year in the championship season.
So here is my challenge to Mike Trout, you have been to the playoffs once and were beat down by the Royals in three games. You are going to be rich forever with your endorsements and salary.You will be a free agent in 2021, you will still be young. Here is my suggestion there is another young star in Washington who will be a free agent in 2019. His name is Bryce Harper.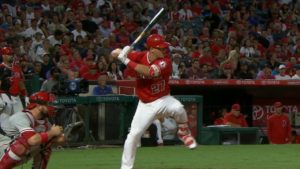 Speaking of D.C there is a gentleman from that part of town that left Oklahoma City because he wanted to prosper and win titles. He even took less money because he wanted the ultimate prize.
Concluding this piece, let me say to Mr. Trout and the fans it's time for you to make your minds up. Kevin Durant gets a bad rap for taking less money and loving the chance to get from under a selfish superstar. While Joe Thomas stayed quote on quote loyal made his money and lost with the Cleveland Browns year after year.
So at the end of the day who was really the damn fool? Mike Trout it's time for you to start making phone calls to Bryce Harper and start to put together the master plan for you two joining forces, making a LeBron-Miami style impact.
If not my friend you are not showing loyalty, you look like a guy who cares what people think and that shows unlike the objects that you hit 400 feet, that you really don't have any.