NBA Players Most Likely To Get Traded In the 2018 Offseason
By:Tyrone Montgomery Jr.
1. Kemba Walker (Charlotte Hornets – PG)
The Hornets have already traded away Dwight Howard. Look for Kemba Walker to be next. He's already being targeted by The Cavaliers. Not to mention, drafting Kentucky PG Shai Gilgeous-Alexander doesn't help his case either.
2.Kawhi Leonard (San Antonio Spurs – SF)
He has a chance to become a free agent next summer. The Spurs are officially in rebuild mode. Manu Ginobli is mulling retirement, Tony Parker is next and so is Coach Popovich. Kawhi Leonard has made it very known he wants to be a Laker. He is as good as gone.
3. CJ McCollum (Portland Trailblazers – SG)
The Portland Trailblazer's season ended in huge disappointment this past season. After having a strong breakout towards the end of the season, they captured the 3rd seed, only to get swept in the first round to the New Orlean Pelicans. Lillard is the captain of the team. That leaves CJ McCollum as the single piece that will bring back the most value to the team, maybe some sort of package deal. This team needs more depth. The Blazers will explore this option.
4. Mike Conley Jr./ Marc Gasol (Memphis Grizzlies – PG/C)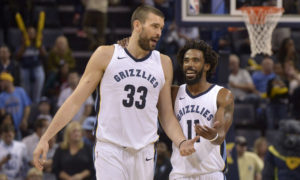 This team have been going through rough times over the last few seasons. Injuries have plagued both Conley and Gasol. Marc Gasol is on the tail end of his career, although he still has a bit left in the tank. Conley on the other hand, is in the prime of his career. It seems like a loyalty thing to me that these guys are still around. The time has come for Memphis to Trust The Process. It started this year by drafting Jaren Jackson Jr. (Michigan State PF/C). He will serve as the future replacement for Marc Gasol. Watch out for these guys to be on the move awfully soon. It will be in all parties best interest to go their separate ways.
5. Nikola Vucevic (Orlanda Magic – C)
Nikola Vucevic has been on the block for two seasons now. The Orlando Magic have been unable to find a trade suitor for him. After drafting Mo Bamba (Former Texas Longhorn Center), its clear as day that they are officially done with Vucevic. He will now be 50 cents on the dollar on the trading market. It's unclear why The Magic are trying to move him, because he has had a solid career thus far. Then again, it is the Orlando Magic, who can't seem to figure anything out. Anywho, the future is Mo Bamba, and he does, however, seem very promising.
6.Kevin Love (Cleveland Cavaliers – PF)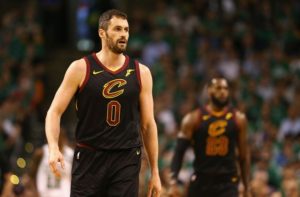 With Lebron on the fences in Cleveland, Love remains the lone soldier if The King opts to leave. This team will only go as far Lebron takes them. Love is a very serviceable piece, but only in the right situation. He will be a future Hall of Famer. It may be time to rebuild, Kevin Love will give you plenty to work with to have a promising future.
7. Kenneth Faried (Denver Nuggets – PF)
Kenneth Faried has fallen out of the rotation over the years. While he hasn't been considered a bust, he just hasn't brought anything that have "Wowed" us. He's an energy athlete off the bench. While Denver continues to add more depth to the forward position (Michael Porter Jr.), Faried is getting buried on the bench even more. If they can't find a deal, I won't be surprised if he finds himself out of the league.
8. Hasaan Whiteside (Miami Heat – C)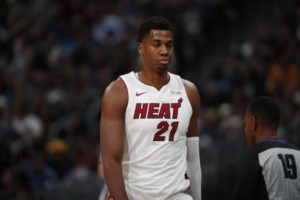 This player being on the trading block is mind boggling to me. Whiteside went from 0 to 100 real quick, and that still isn't good enough for The Heat. He has proven he belongs in this league, so I don't think it will be a problem moving him. My guess is Miami doesn't like the contract they gave him. The Heat are just looking to right a wrong. More than likely, Hasaan Whiteside won't start the season in Miami.
9. Dennis Schroeder (Atlanta Hawks – PG)
After acquiring PG Trae Young in a draft night trade, this leaves Dennis Schroeder as the "Odd Man Out" in Atlanta. While he is a good PG, he just isn't good enough. With a bad attitude, along with a bad shot, Schroeder will be gone soon. Most teams in the league already have "Their Guys" at the PG position. Dennis Schroeder may need a piece of humble pie, because chances are when he is moved, he won't be the starting PG anymore.
10. The Toronto Raptors Team
The most disappointing team in last season's postseason was The Toronto Raptors. While losing to Lebron and The Cavaliers again this season, it got even worse when they got swept. They had their best season with this squad, won the East, Demar Derozan had MVP considerations, and they still couldn't get past a vulnerable Cavs team. Firing Head Coach Dwyane Casey was the wrong move and they know it already. He has found a job already with The Detroit Pistons. Now, they are said to have no untouchables this offseason when it comes to transactions. The Raptors have reached their peak, and they missed their best chance at the finals. They are now looking ahead to the future, nobody is safe.