NFL Tales of the Week – Week 8 2022 NFL Season Edition (10-31-22)
By: Tyrone Montgomery Jr.
Headline Photo Courtesy: USA today
Justin Fields is showing promising signs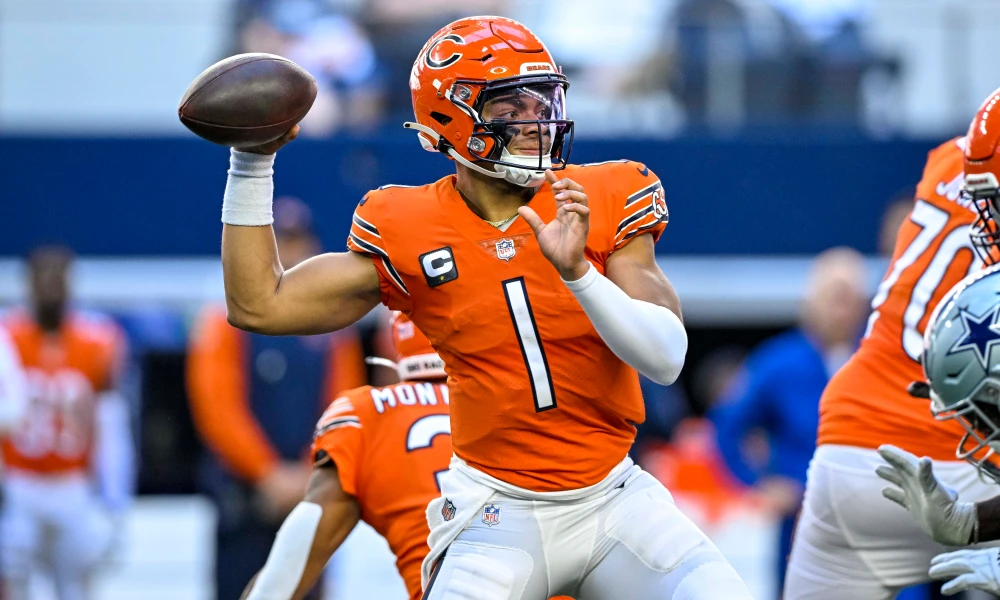 It may be a well-known fact in the NFL that the Chicago Bears are the worst team in the league. Record-wise, that statement may not be the case. But personal-wise, roster-wise, and front office-wise, the Chicago Bears are in a pretty rough position. They recently shipped out 2 of the best defensive players that were on their team, LB Roquan Smith and DE Robert Quinn. It's beginning to look like the Bears may be tanking. A team can be bad and in a rough position, but if they can figure out the QB position, then there's hope. Justin Fields had a rough going in his rookie campaign. The Bears didn't do much to help him out and still haven't quite frankly. The O-Line is lousy and the weapons aren't any better. Despite the challenges, QB Justin Fields is improving every week and is beginning to show some pretty promising signs. The kid is coming along slowly, but he has more TDs than INTs halfway into the season (7-6 Ratio), and the Bears have managed to win 3 games thus far this season standing at 3-5. Fields being a dual-threat QB is helping his cause in his development as well. Look for the Bears to continue to sell the farm of stock and try to load up on as many drafts picks as they possibly can before the 2023 NFL Draft. The Bears may have seen enough from Justin Fields to know he can be the cornerstone of the franchise. Now it is up to them to build around him. Hopefully, they can get him some weapons next offseason because Fields is pretty darn good believe it or not
King Henry Running the Show in Tennessee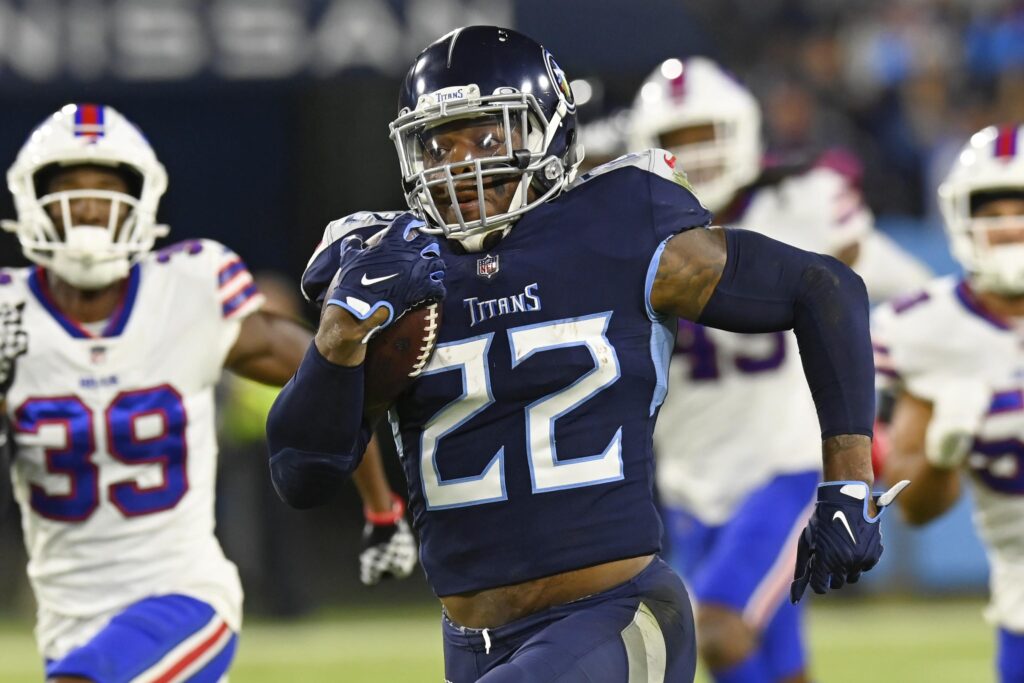 The quietest kept secret in the NFL is Derrick Henry and the Tennessee Titans. Very quietly, they find themselves atop of the AFC South at 5-2. Derrick got off to a terrible start to the season. Many people wondered if he was still recovering from his injury last season. Maybe he wasn't quite himself. Maybe we have seen the best of King Henry. Perhaps he was out of shape. Maybe the window has closed in Tennessee. Despite the slow start, King Henry is now ranked second in total rushing yards this season trailing only Saquon Barkley. It's always good to remember the Titans. This team has relied on Derrick Henry over the years and this year is no different. There have been so many questions at QB with this team dating back to last season. Ryan Tannehill's run could be over soon as he missed this past week's game. However, his future replacement Rookie QB Malik Willis didn't necessarily turn heads and impress either. While Henry carried the Titans to a win leading the way with 219 Rushing Yards along with 2 TDs, Malik Willis only threw for 55 Total Yards going 6/10 on passing attempts. The Titans have to be careful moving forward with the workload for King Henry. If they can keep Derrick Henry fresh as we get deeper into the season, the Titans could upset some folks and have a Cinderella-type season. But the defense has to play lights out and they have to protect their MVP in Derrick Henry.